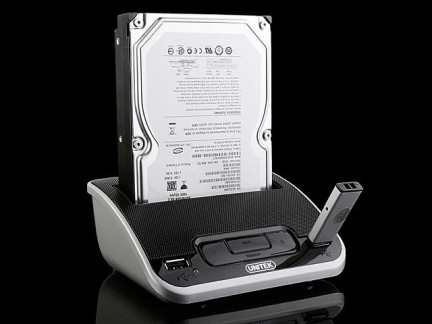 You hate to trash all of your old gadgets, don't you?
You have a shelf full of dusty Hard Disks, now useless because of the new 1 TB monster you already installled in your main PC, right?
Maybe Brando has a solution to sweep away the dust and transform your bare HDs to cool "new" gadgets.
The "Brando SATA HDD Dock Station Combo Stereo Speaker + Hub" is a dock for your spare S-ATA 2.5" and 3.5" hard disk drives, but can also be used as a USB hub and stereo speaker system, able to play your music.
From the producer site:
Standable
Supports both S-ATA 2.5″ HDD and 3.5″ HDD
PC connection: USB 2.0
Built in volume control and mute button
Built in 2-Port USB Hub
Built in Stereo Speaker (speaker output power is 3W)
Built in USB Audio Sound Card
Line-in function (let the HDD dock be a standalone speaker system)
Microphone in and Speaker output function (let you connect it with a headset and therefore access easily to the VOIP applications, such as MSN, Skype, Google Talk)
Support Windows 2000/XP/Vista, Mac OS 9.X or higher
Dimension: 134 x 117 x 56 mm (approx.)
Weight: 285g
It seems that you could fill an unused HDD of MP3 files and play them from the dock, cool!
Via: Gadget|Blog.it