This is not an invitation to loose your good habits in personal hygiene, but a different way to preserve it, offering a healthy environment not only to your feet but also to others.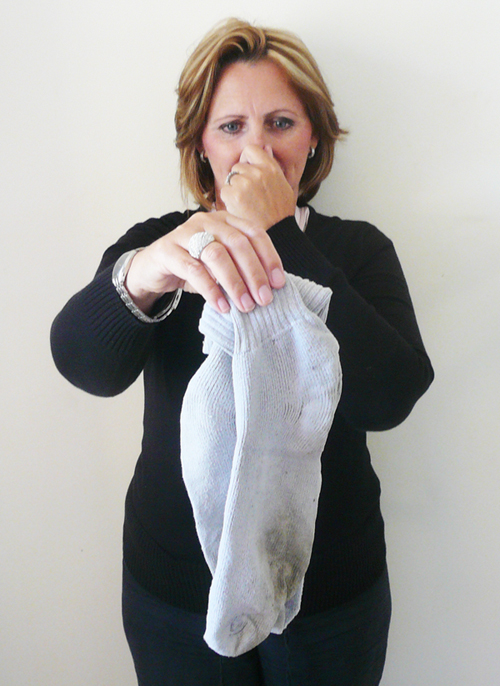 In case the "Athlete's Foot" is your "Achille's heel", you will appreciate the recent launch of the stink free socks by Copalife.
Thanks to the usage of anti-fungal and anti-bacteria textiles Copalife will stop the fungus and bacteria that cause feet to smell and fungus to grow, and you will be ablto to wear them longer without any "perceivable drawback", or smell, if you want.
From  the announcement:
Copalife's technology is based on incorporating copper into textiles, which subsequently offers anti-bacterial, anti-viral, and anti-fungal properties.  The Copalife socks are very versatile and offer a broad spectrum of benefits including help with allergies, itchy skin and with fungal infection.
The intrinsic properties of Copalife socks mean they require minimal washing and at a low temperature.
Having socks that can stay fresh for weeks at a time not only reduces washing costs but also helps to reduce the carbon footprint.
By using nano technology Copalife have been able to produce socks at a similar price to existing socks on the market.

Independent laboratory research shows Copalife technology stops 99.9% of bacteria, fungus and microbes that cause odours and product deterioration.
Copalife's patented and novel technology steadily and safely releases copper ions when in contact with the skin. Copalife technology improves skin tone and texture, reducing the appearance of fine lines and wrinkles and promoting cell growth and wound healing.
It seems that you will be able to reduce washing costs and reduce the carbon footprint, cooperating in maintaining healthy the earth.
Go give a look to the full catalogue, and you will find others way to take care of your body and of the earth.
Link: Copalife
Link: Copalife Store