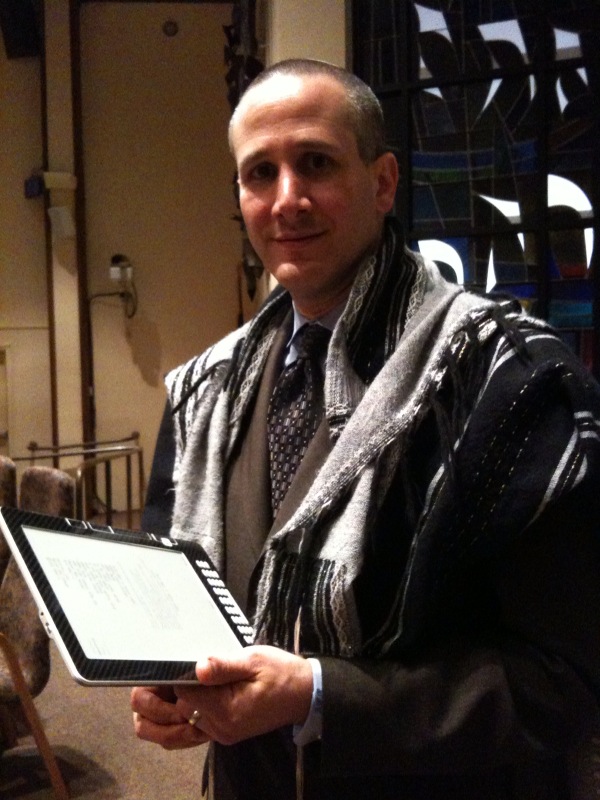 photo credit: Ozyman
Technology can be a lot of fun. It can keep us connected with one another, it can transform our work habits, and it can help us become more organized and efficient.
It can do all these things, but of all the great uses of technology the one that stands as most important is this: that it can help us solve the problems life throws at us.
Dan is a good example of some of the ways technology can help overcome otherwise challenging issues. Back in January he wrote a post entitled A Crash Course in One-Handed Blogging. Dan had just undergone surgery to fuse one of his wrists after it had been destroyed by rheumatoid arthritis. With one arm tightly wrapped and constantly elevated, voice recognition software allowed him to keep blogging and writing for his rabbinic works (and for Gear Diary), even as he recovered from a surgery that was far more extensive than he expected.
Dan continues to do a great deal of his writing using various voice recognition solutions, and he will be introducing a new series about the subject here on Gear Diary later this week. But this story isn't about VR, it is about another technology that has helped Dan deal with some of the after-effects of RA and his surgery; it's about a technology that I have long advocated.
With his permission, here is the story…
It was the Jewish High Holy Days. Because his synagogue's congregation size is far greater than the capacity of his synagogue's sanctuary when everyone is present, all of the services were being done twice, back to back. That meant that on the New Year (Rosh Hashannah), there were two services in the evening, two more in the morning and then another in the afternoon. The Day of Atonement (Yom Kippur), a little over a week later, would repeat this schedule and add in three more services.
Problem was, the prayerbook Dan was using is large and heavy. Between the weight of the book, the position of holding it open, and the repetitive action of turning the pages, Dan got home the first night of the new year with wrists that felt as if they were on fire. It's a simple equation, you see: Arthritis+weight+repetitive motion = PAIN
The same thing happened the next morning, and Dan was worried about what condition his wrists would be a week later, when the number of services was even greater.
Then a friend said, "You know, you have talked about eBooks being the future for everything, including prayer books. Would that work??"
Dan IM'd me and asked if I could take a few pictures of a .pdf document on my Kindle DX. He asked me what I thought about mine, and I quickly replied that I love the thing, but some might think it a bit big. I sent him screen shots of the DX taken with my iPhone, so he could see exactly how his .pdf texts would render on a DX, and I also included photos of the screens of the DX and Kindle2 next to each other, so he could better compare the differences.
Shortly after, Dan placed his order for the Kindle DX and a dark decal to make it less obvious. In preparation for his particular use, Dan created a .pdf version of the prayerbook he uses – annotations, directions and all. He used his Mac to trim each page so that the least amount of white boarder would be present, because the DX renders .pdf files at exactly the size that is input, and the size cannot be changed. By trimming Dan ensured the largest print possible.
The Kindle came. Dan connected it to his Mac, dragged the worship .pdf into the Kindle, and then put the file into the Kindle's Documents folder. He disconnected the Kindle and… ePrayers!
So how did it work? Overall quite well. The quality of the text was excellent; it was totally usable and of the same sharpness as the original.
Dan told me that it took the service a few seconds to load. Since the size of the file is directly related to the quality of the .pdf, the clearer the text the longer the load time. Because there was a slight delay between clicking to turn a page and the page actually turning, Dan had to anticipate the page turn more that he otherwise might.
Because flipping through pages isn't as easy or as fast on a Kindle as it is with a real book, Dan had to make sure the pages were in perfect order and that pages he might otherwise skip were removed prior to loading.
Those caveats aside, the Kindle DX was a great solution for Dan. It was light, required only one finger to turn a page, could easily be shifted from one hand to another, and it offered the same viewing quality as he would otherwise have had. Better still, very few congregants actually noticed he was using it.
So was Dan actually happy with the experiment? Apparently so, since he is planning to continue using the DX. He did mention that in a Conservative or Orthodox synagogue this would not be possible due to religious restrictions, but he is a rabbi in the progressive Reform movement.
Now that what I call "Where Technology Meets Tradition".