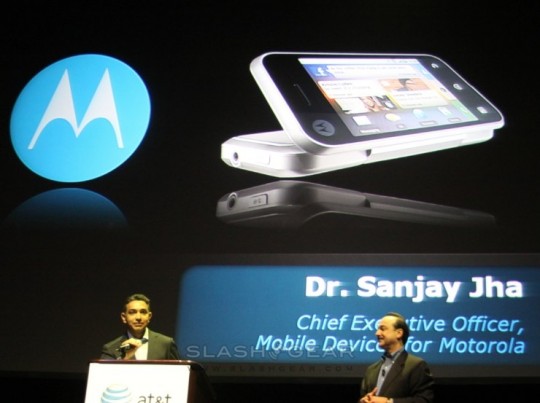 Photo courtesy of Slashgear
Motorola brings a whole new lineup to CES with some new phones and accessories. Their biggest announcement comes to us as the Motorola Backflip with MOTOBLUR. This new Multimedia powerhouse brings all the latest features in an Android smartphone with the addition of the MOTOBLUR content delivery service. MOTOBLUR organizes all your favorite friends, feeds and messages and streams them to live widgets for immediate reply, so you can focus more on the information thats coming rather than who is sending it. It only takes a few simple clicks to update your status on your favorite social media site right from "happenings" widget on your homescreen. More after the break.
Motorola Backflip (Reverse Qwerty Flip)
This new phone allows you to view your content in whole different way. The backflip transforms into different modes depending on the content you are viewing. A normal candy bar style phone lets you use it as your would any other front touch screen phone, you can flip the screen into tabletop mode to watch your favorite videos, streaming video and any other multimedia type content. You flip the screen up and have a full QWERTY keyboard to handle all your texting and social media needs on a 4 row keyboard.
Motorola took data mobile data security up a notch with MOTOBLUR's secure server. The service is fully integrated with the onboard GPS and allows you to login to your customer portal and have all the information from your phone at your fingertips. You can do a remote wipe of your phone to keep all of your personal and sensitive data out of the wrong hands. You will also have all your contacts, log-in information, home screen customizations, e-mail and social network messages backed-up, so you can sleep better at night knowing your phone is secure and backed up.
Quick Specs
WCDMA 850/1900/2100, GSM 850/900/1800/1900, HSDPA 7.2 Mbps
3.5mm headset jack, , USB 2.0 High Speed, BT Class 2.0, version 2.0 and 802.11 b/g
3.1" 320 x 480 256k TFT Touchscreen
2GB included up to 32GB supported

memory

1400 mAh battery and up to 6 hours talktime /up to 315 hours standby

Android 1.5 with MOTOBLUR
Motorola also announced today that they are closely partnering with Adobe to bring Flash 10.1 support to Motorola smartphones by way of the Open Screen Project. Currently Adobe is working with the DROID as it developes the software for the Android platform. This will give consumers uncompromised web browsing and add support for flash games, media, and applications. The expected release is in the first half of 2010.
Photo courtesy of elromdesign
MOTONAV TN500/TN700
Motorola also pushed out two new personal Navigation devices as part of the new MOTONAV lineup. The TN500 and TN 700 both keep you on track with stunning visuals and voice command guidance. Both devices are bluetooth connected and let you browse your address book, while keeping both hands on the wheel. Motoextras is another Motorola exclusive that allows you to get local search results, streaming traffic updates, fuel price comparisons, weather updates, and flight statistics. This service is a monthly fee based subscription but gives you 90 days to test out for free. Availability for these two devices is Q1, no prices have been released.
Spec Sheet
TN500 Series
2 hours battery life
4.3″ widescreen display
dimensions 114.2. x 77.5 x 14.65 mm
Design: Map-centric interface with dynamic side views, smooth scrolling and intuitive physical controls
Navigation: Lane guidance, junction view, speed limits, spoken street names
Communication: Bluetooth hands-free calling with phonebook download, voice answer and recognition commands
TN700 Series
2 hours battery life
5″ Cinematic widescreen display
dimensions 134.7 x 70.2 x 14.0 mm
Design: Map-centric interface with dynamic side views, smooth scrolling and intuitive physical controls
Navigation: 3D landmarks, lane guidance, junction view, speed limits, spoken street names, voice destination entry
Communication: Bluetooth hands-free calling with phonebook download, voice answer, easy reply, and recognition commands
Motorola TK-30 Hands Free Car kit
This new Bluetooth car kit allows hands free hifi sound on the go. You can connect up to two phones and once with an auxiliary input for your iPod, iPhone, or any other MP3 music device. You can connect using the included 3.5mm jack, the USB port or can go wireless with your bluetooth connected device. The built in 4 channel amplifier ensure enough power to all your speakers for great clarity and volume. The OLED display shows all necessary information and provides crystal clear viewing for all information. The TK-30 will be available in the second quarter of 2010, no prices have been released yet.
Quick Specs:
Pod, iPhone, USB, 3.5 mm headset jack
Bluetooth version 2.0
47.5mm (width) x 10.6 (height) OLED display
Bluetooth-enabled for wireless connectivity
ISO Harness Vehicle Integration
Automatic phonebook download2
Voice prompts
Noise cancellation technology
Advanced multipoint technology
Motorola H720 Universal Bluetooth
Motorola finishes off the lineup with some new earcandy. This simple designed headset was made for speed and comfort. The popular flip switch design allows easy answering and ending of calls. The 720 is a basic no-nonsense hands free solution that wont empty your wallet. Active echo cancellation and noise reduction provides great clarity and 8 hours operation gives you the runtime you need without frequent recharging. Easypair technology allows painless syncing with your mobile device for an overall hassle free product. The headset will be available in the first quarter of 2010, no price details released.
Quick Specs:
Bluetooth 2.1 w/ EDR
RapidConnect™ – Boom-enabled on/off switch
Noise reduction and echo cancellation technology
EasyPair™ technology
MicroUSB connection
Via Motorola
Product photos courtesy of Motorola