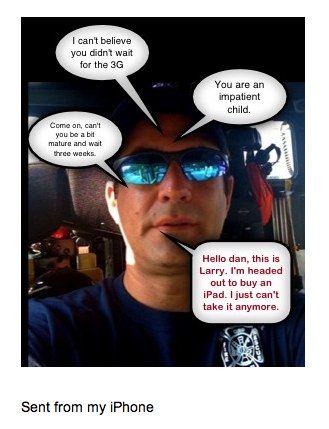 So, Greenberg caved. Yes, after Larry gave Judie and me a tremendously hard time about the fact that we weren't going to wait for the 3G version of the iPad to be released … he actually broke down and decided to get one for himself.
So he got in his car, drove over to his local Apple reseller, and bought… not a 16 GB model… not a 32 GB model… no Larry bought a 64 GB WiFi version of the iPad. When Greenberg caves he caves big-time!
That's actually not the reason for this post, although it did give us a great excuse to give Larry a publicly hard time.
No, the reason for this post is that Larry just called me to tell me that he stopped by the Apple Store to pick up a case or two — yes, let the Larry Greenberg iPad case reviews begin!!!— and he found that there were plenty of iPads in stock.
The Apple store where he lives has all three sizes of the iPad available.
They also have a host of accessories already available. So if you've been thinking about getting an iPad, but think that they're sold out and won't be shipping (as it indicates on the website) until the 12th — don't wait, go visit your local Apple store! You'll probably find the same thing: iPads galore!