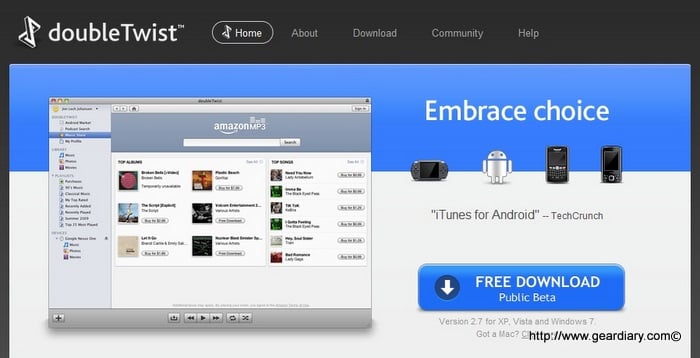 If you need a program that makes quick and easy work of converting all your media to your mobile device, then doubleTwist might be the answer your looking for. The public beta client is currently available for PC and Mac, and it requires a free account to use. doubleTwist will convert and sync all of your music, videos, and pictures easily, and it will auto-detect whatever device you have plugged in. Software is free and pretty simple to use. They've also recently added some new features for Android and the Marketplace.
The Android Marketplace is now fully integrated into the doubleTwist Mac platform and soon will be available for PC. There is no app sync as of yet, but QR codes are displayed so you can scan them from your screen and quickly find them in the marketplace. The finished version of a client and full Android sync would take a lot of guesswork out of the process for people used to the iTunes style downloading and syncing of apps.
As of now there is really no good way to view the Android marketplace online, but doubleTwist features a fully searchable online Android Marketplace and Podcast search. There were a few sites that made an attempt at an online version of the Android Marketplace, but this has been the best I've seen so far.  Best of all, it's free.
Check out the site and forums for more info and answers to FAQ's. This a step in the right direction for bringing the Android Marketplace to the desktop and sync capabilities with your device. I havent fully tested the app with many devices yet, but so far it's been working well with my MyTouch3G.
Here's a list from the site of the supported hardware:
Google Nexus One Android phone

– Sync your videos, photos and iTunes playlists to your Nexus One.
Motorola Droid and CLIQ Android phones – Sync your videos, photos and iTunes playlists to your Droid.

HTC Android phones: G1, Magic, HTC Hero

– automatically convert your videos and sync them to your Android phone; sync your iTunes playlists and photo library.

Samsung Galaxy and Moment Android phones

– Sync your videos, photos and iTunes playlists to your Samsung Android phone.

BlackBerry

– We have many happy BlackBerry users and support all the recent BlackBerry models such as the

Curve

, 

Pearl

, 

Storm

, 

Bold

and 

Flip

.
Sony PSP – Use doubleTwist to automatically convert your videos and sync them to your PSP; sync your iTunes playlists and photo library. Make sure that you've upgraded your PSP to firmware v6.10 for playlist support.
Palm Pre – automatically convert your videos and sync them to your Palm Pre; sync your iTunes playlists and photo library.
Archos 605 – sync your videos, iTunes playlists and photos. Other Archos models should work as well.

INQ1, INQ Mini and INQ Chat

– sync your videos, iTunes playlists and photos to your INQ phone!

Nokia N & E Series phones

, including the 

N95

, 

E61i

, 

E62

, and many others such as the 5800 XpressMusic- automatically convert your videos and sync them to your Nokia; sync your iTunes playlists and photo library.
Sony Ericsson Walkman & Cybershot phones

Windows Mobile 5.0/6.0

platform (e.g. Treo, HTC, Samsung) — currently PC only, will be available for the Mac very soon – automatically convert your videos and sync them to your Windows Mobile; sync your iTunes playlists and photo library.

LG Viewty and Shine

– automatically convert your videos and sync them to your LG; sync your iTunes playlists and photo library.
Motorola (V9 and V3xx) and most Razr phones
Sansa View and Sansa e200 series
Amazon Kindle – sync audio files to your Kindle
iPhone (supports v3.1.1 firmware) – load your iPhone with movies and let doubleTwist make the necessary conversions; iTunes playlists are also supported (PC only but Mac coming soon)
iPod – load your iPod with movies and let doubleTwist make the necessary conversions; iTunes playlists are also supported (PC only but Mac coming soon)
Nintendo DSi – coming soon! Load your DSi with music and let doubletwist do the necessary conversions
Most digital cameras
Most flash-memory-based camcorders are supported
via AndroidandMe, doubleTwist