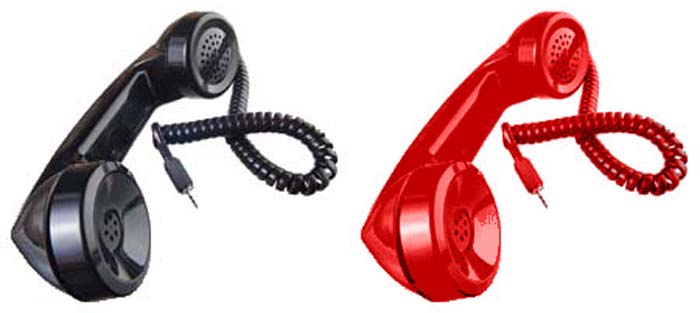 My wife recently began a new job which allows her to work out of our home part of the time.  She's created an office in our finished basement (away from our kids.)  In order to separate her work related calls from our personal ones she's decide to use her iPhone as her home office phone instead of paying for the addition of a second line.
If you've ever used an iPhone, or any cell phone for that matter, you probably know that it's not the most comfortable device to talk on for very long periods of time.  Mostly because you have to actually hold the phone with your hand.  If you really skilled you might be able to nestle it between your ear and shoulder but if not you've lost one hand and this makes multi-tasking (things like typing and talking) difficult.
Enter Novophone.  The Novophone is a retro inspired handset which plugs in to the headset jack of your wireless phone.  It comes in two models, one of which features a multi-function button which allows you to answer and initiate calls right from the device and one that does not.
The Novophone is available in a stylish red or a more conservative black and the company also provides adapters to work with a wide variety of mobile devices.
The model with the multi function button sells for $26.95 and without $29.95
Check out the full line here.