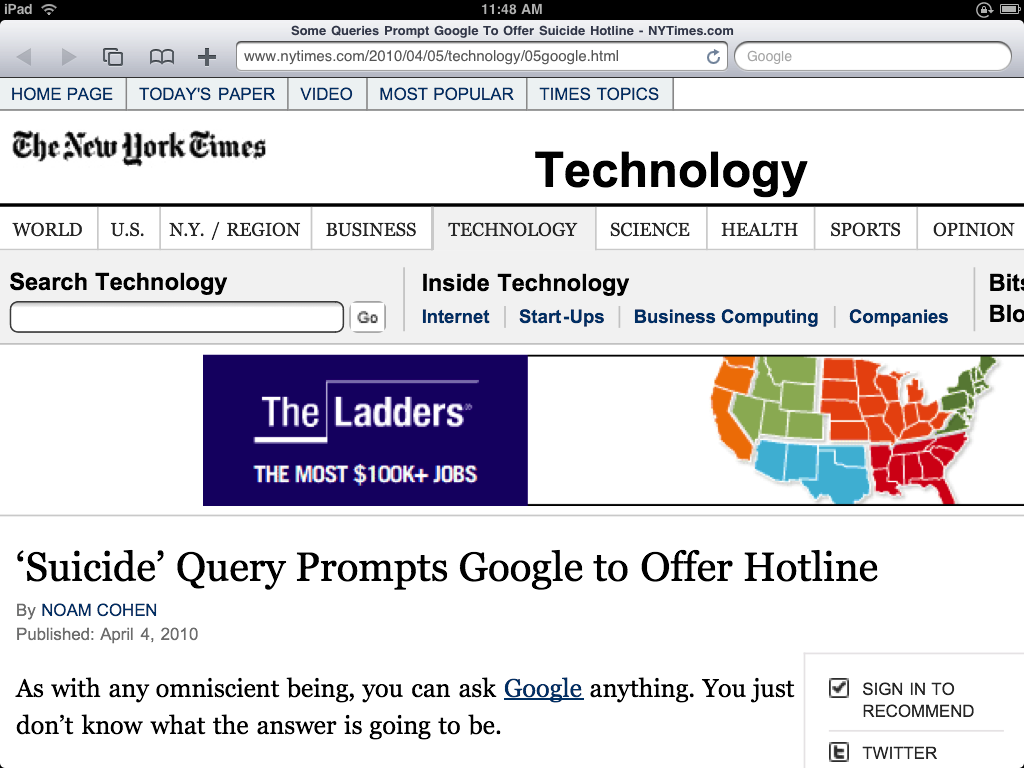 From Drop Box
The unofficial corporate motto or slogan for Google is "don't be evil". It actually comes from the sixth point of this company's 10 point corporate philosophy which is, "you can make money without doing evil." Truth be told, while it's a lovely sentiment one could argue that it's not totally in place in Google anymore. They are a behemoth company, and they are looking after the bottom line more than anything else these days. This noted, it's worth pointing out when a company like Google, or Apple, or Amazon do something that really stands out as a positive, and that's actually what Google did according to an article to Judie sent to me last night.
The New York Times reported that for just the second time, Google has flagged a web search that was of concern. Instead of returning search results based upon whatever their algorithms might automatically show, they have provided targeted results in an effort to help the person doing the search. In this case, the person performing the web search was asking for information on ways to commit suicide. Google, in turn, seems to have specifically opted to give responses that included ways for the inquirer to seek help from such services as a suicide prevention hot-line. This as opposed to offering links to books such as this horror, which is effectively a "how-to" commit suicide manual.
As the Times article noted…
the Google search engine started automatically giving a suggestion of where to call after receiving a search seemingly focused on suicide.

Among the searches that result in an icon of a red phone and the toll-free number for the National Suicide Prevention Lifeline are "ways to commit suicide" and "suicidal thoughts." The information takes precedence over the linked results and is different and more prominent than an advertisement. Guidance on suicide prevention was suggested internally and was put in place on Wednesday.
Google did this once before when they began providing a phone number for the national poison control hot-line when people searched for things like "poison emergency."
So now if someone searches for something like "commit suicide" the search results will include links that can, hopefully, help the person get the help they need rather than expedite their exit.
Some might argue that this is problematic. Google should not, they might say, be returning search results based on their standard algorithms. I might normally agree, but in this case I am glad to see Google taking this tact. It is, admittedly, personal. I do a lot of work with teens, and I know only too well how stressful things can be… especially for those who are seniors, are waiting to hear final word from colleges and are approaching high school graduation with all the stress that change brings. Mix in my own personal experience with teen suicide in my own family and… I am glad to see Google taking this tact.
You can read the entire NYTimes article here.
So what do you think? Is it worthwhile and appropriate for Google to filter results in such a targeted manner when it is for a good, beneficent purpose? Or has Google overstepped yet again?