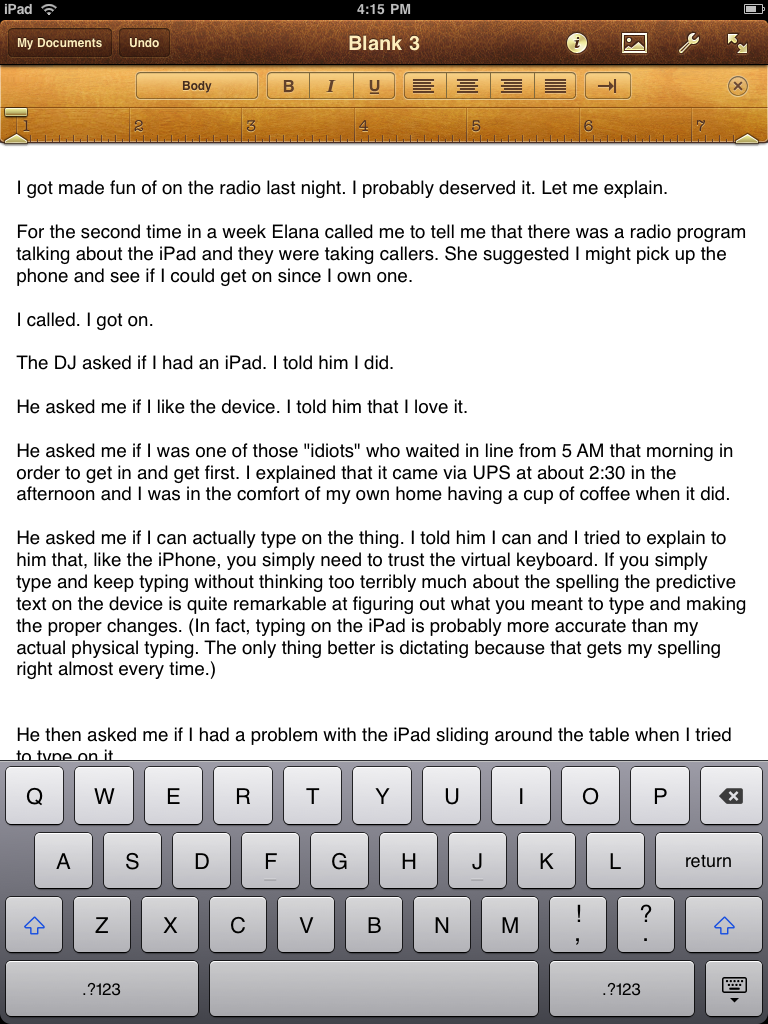 photo credit: Ian Hayhurst
I got made fun of on the radio last night. I probably deserved it. Let me explain.
For the second time in a week Elana called me to tell me that there was a radio program talking about the iPad, and they were taking callers. She suggested I might pick up the phone to see if I could get on since I own one, especially since the DJ was seriously down on the iPad.
I called. I got on.
The DJ asked if I had an iPad, and I told him I did.
He asked me if I like the device, and I told him that I love it.
He asked me if I was one of those "idiots" who waited in line from 5 AM that morning in order to get in and get one first. I explained that it came via UPS at about 2:30 in the afternoon, and I was in the comfort of my own home having a cup of coffee when it did.
He asked me if I can actually type on the thing; I told him I can.
I tried to explain to him that, like the iPhone, you simply need to trust the virtual keyboard. If you simply type and keep typing without thinking too terribly much about the spelling the predictive text on the device is quite remarkable at figuring out what you meant to type and making the proper changes. (In fact, typing on the iPad is probably more accurate than my actual physical typing. The only thing better is dictating because that gets my spelling right almost every time.)
He then asked me if I had a problem with the iPad sliding around the table when I tried to type on it. I joked that that would only be a problem if the table were made out of Teflon. (He didn't laugh.)
He then asked me why I would want to carry an iPad instead of a notebook, and if I missed being able to open the top of the laptop and beginning to type away.
That's when I probably use the wrong word. I told him that that would probably work just fine if I were stuck in an old "paradigm".
He jumped in "Oh my, I'm stuck in an old paradigm. Someone get me a dictionary so I can look that word up."
Okay, I deserved that. What I was trying to say was this…
If you think about using the iPad in the same manner in which you would use a notebook computer, then you probably are going to be disappointed at some point. The two devices are DIFFERENT.
The iPad does not multi-task (yet). A notebook does.
The iPad does not store all documents and files in one unified place. A notebook does.
The iPad is locked down by Apple. A notebook is not.
The iPad and a traditional notebook are different devices, and they have to be used in a different manner. BUT, and this is a huge BUT, if you think less about HOW you are going to perform a task, and simply think about the task you WANT to perform and HOW you can accomplish it on the iPad, then you will likely discover that the iPad can do 70 to 80% of what you normally do on a notebook computer. And some things, such as checking your RSS feeds, it does far better in my opinion.
The iPad is incredibly powerful. It CAN do most of the things that are normally done on a laptop (like write this post). but on an iPad the process has to be done differently than it would be done on a notebook.
So you might then ask why anyone would want to carry the iPad in place of a notebook? There are a few key reasons:
1. It gets ten plus hours of battery life at a time.  My notebook does not get nearly that.
2. It runs totally cool. That is a huge pet peeve of mine with notebooks.
3. It has a smaller footprint and therefore lets me use a smaller bag. That's a good thing with my damaged wrists.
4. I am ENJOYING using the virtual keyboard when the iPad is in landscape and on an angle, thanks to the Apple case.
5. When the 3G comes out it will have ubiquitous connectivity. My notebook does not.
6. There are some key activities like reading my RSS feeds and returning email that I prefer doing on the iPad.
7. It is the ultimate in convergence. In the past I would carry my notebook, my Kindle, my iPod touch (so that music etc didn't drain my iPhone's rotten battery more than usual) and often a paper magazine or two. Now I just take… my iPad.
And there is one additional key reason… but that is my next post.