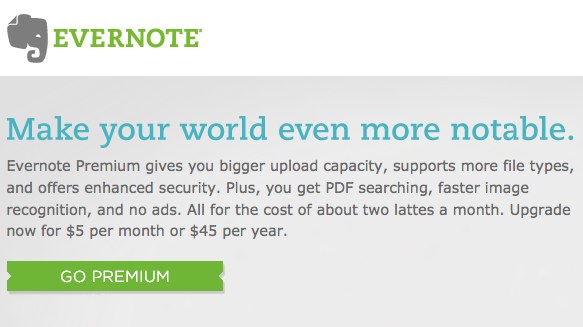 One of the things that is clear about Evernote is that they never stand still. Like clockwork there is one update or another pretty much every week. Evernote for Mac sees some sort of update on a regular basis and, more often than not, it is a notable improvement, the same goes for the iPhone app. And the iPad app that was available at the launch of the device… Awesome. It is really quite impressive. Better still is the fact that it saw a meaningful update earlier today.
Less frequent are the updates to the actual service itself but when they do happen they are significant. For example, the process of emailing became far more powerful a few weeks ago. And then there is tonight…
Tonight Evernote announced a significant update to for their Premium customers. Premium accounts only cost $45 a year (a bargain in my opinion) and the value of that $45 just increased in a big way. The main changes are two-fold. In short, the size of documents that can be added to an account was just doubled, and Evernote just introduced a function that will let users see the history of their various notes. Let's look at both in a bit more depth.
Note Size Limit Increase
Until now the maximum size of a note was 25MB. That worked pretty well most of the time but there were occasions where it just was not enough space for the document people wanted to put into the system. That cap has just been increased to 50MB for Premium Users. This is especially useful since Premium Users can also upload a wide range of file formats to their accounts. These include ppt presentations, audio files, video and more. This will make having a Premium account more useful than ever.
Note History
The second major change is the addition of a feature allowing users to access their note history. The folks at Evernote explain that several times a day the Evernote servers make a copy of any note in a user account that has changed. These are then added to the "Note History". Premium Users will now be able to access these files and view and export them as needed. This feature is, for now, only available on the web interface but they have promised to roll out this feature within the desktop applications some time soon. Even with that limitation I can see how useful this can be.
Beginning immediately both features will go into effect so there has never been a better time to consider upgrading an account. You can get more information on the Evernote Blog.
I'll be attending the Evernote gathering in Manhattan tomorrow night so I look forward to sharing some of their additional plans with all of you on Friday.
Disclaimer- No, I don't work for Evernote, they aren't even a site sponsor. I just love the service and the way it has changed my entire work-flow.