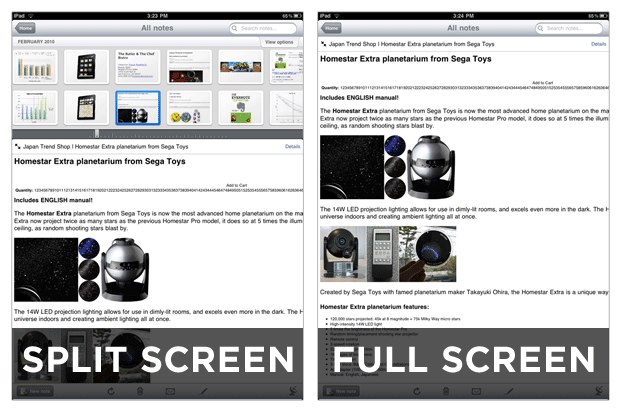 Evernote for iPad was available right out of the gate when the iPad started shipping. It was good. Really good. But it has already been updated and now it is even better.
This Evernote update brings significant improvements with regard to sync performance. This is true on both the iPhone and iPad and is especially welcome by those of us who have a tremendous amount of information in our Evernote accounts. Having to wait a long time for your notes to sync is a pain… especially while the devices still do not multi-task. (something that will thankfully change soon.) You will likely see the biggest improvements in the "Syncing headers" phase.
In addition, if location data is available the iPad version now geotags new notes. This will be especially useful when the iPad 3G starts shipping since it offers GPS in addition to a a 3G data connection.
The update also fixes issues with some third-party apps integrations, improves searching and maps and makes the audio recorder on the iPad better.
The biggest change, and the one the merited this post, is the addition of "full screen mode" on the iPad. When you look at a specific note you will now see small arrows in the upper left corner. If you click them the split screen showing thumbnails and the note will disappear and just the note will be shown. This is true regardless of how you have the device oriented.
The constant split screen was the biggest annoyance I had with the iPad version of Evernote. Not surprisingly just a little over a week after its release the issue is gone.
Oh, and by the way for those of us, I mean that those of you, who are demoing the beta version of 4.0, this update restores Evernote functionality on your iPhone. CORRECTION- it will now send new notes to the server but accessing notes remains an issue.
You can read all about it on the Evernote blog.
I'll be attending the Evernote NYC Notable event tomorrow night and hope to have some additional Evernote updates for you on Friday.