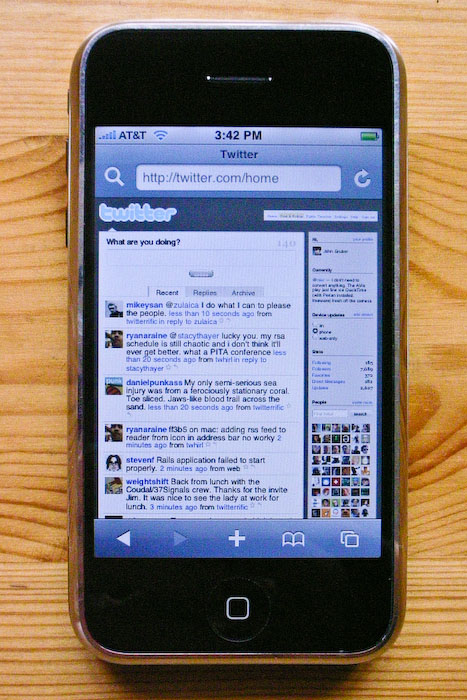 [image courtesy of legacy leavers ]
It's no secret this Twitter thing has done a bit more than just 'caught on'.    If the Libary of Congress is archiving tweets then, yeah, that's kind of a good indication that this is a big deal.  A technological, cultural and communicative big deal.  The kind of thing that has power.  Just look at the way Twitter brought donations to Hiati, or the way it brings breaking news to many people across the globe long before TV news anchors.
With that kind of impact, many developers are certainly planning to include (if they aren't already) Twitter's free application programming interface, or API, in their own applications.  That's where Sonoa Systems' comes into play with their updated Apigee features that can speed up development, testing, debugging and even provide in-depth user analytics …for free!
Maybe you've been thinking of integrating Twitter's features into your own application.  Maybe you want a painless way to create and debug that application without needing to take out a second mortgage for extra resources.  Maybe you'd like to know what features users are hitting the most.  If you've been pounding your head against the desk or simply putting off building that 'next big thing' application, read on to find out why you need to start using Apigee.
[click the pic above to enlarge]
Sure, it may not sound so sexy to wax poetic about debugging and application code.   But Apigee gives you cloud-based tools that you can use from any internet computer to easily create services that will leverage Twitter APIs.    Get an error?  That's where their free debugger comes in.  Then, when you need to analyze whether your creation is getting real use out in the world  (and what features are being used the most), you can use Apigee to get that data as well.
We've covered Sonoa Systems before.  They're no flash in the pan.   They've previously launched services that can dramatically speed up applications for iPhone and Android devices.  They've also powered some of the 'nets most popular sites that utilize Google, Twitter and Facebook APIs.
Think of Apigee as the man behind the curtain in Oz.   Everything you need is out in front and showcased in the application's features, while Apigee handily makes all that behind-the-curtain coding and debugging one less thing to have to lose sleep over.
Press Release and additional details:
Apigee Provides Developers with Free Testing, Debugging, and Monitoring of Twitter API

SANTA CLARA, Calif. – April 14, 2010 – Sonoa Systems, Inc., the leading provider of enterprise API management solutions, today announced new features for Apigee, a free API lifecycle platform for developers working with APIs.  Apigee now makes it incredibly easy for developers to build applications to the Twitter API by providing analytics, monitoring, debugging and testing tools.

"The Twitter API is one of the most active in the industry and has opened Twitter's service to enormous growth, highlighting the power of APIs as the driver of the new web economy," said Sam Ramji, vice president of strategy for Sonoa. "We're working to make Apigee 'a better way to API,' and by launching Apigee for Twitter we're focusing on providing great tools to a vibrant community of developers."

Apigee brings a set of new capabilities to thousands of developers building on the Twitter API. The focus of the new release is to be a great way to learn the Twitter API, to debug apps against the Twitter API, and to monitor apps that use the Twitter API.  Specific features include:

API Testing: Use the API Console to review an API's structure, experiment with the endpoint, review the request and response messages, and share them with other developers:
API Debugging: Use the API Debugger to record messages you send to any API, review requests and responses, and dig into errors. Any developer can use the Debugger for any API;
API Analytics: Use API Analytics to review usage levels, geo-location of requests, overall performance, which developers and apps are using your API the most, and core API performance metrics like response time, and including Tweets and Retweets for calls to the Twitter API;
API Protection: Use API Request Quotas to protect your back-end from surges in traffic and from accidental (or intentional) abuse of your API, available for up to 50,000 requests per hour.

One of the most critical aspects of development is that it's a social process.  With Apigee for Twitter, developers can record API request/response pairs with other developers to help with troubleshooting and community learning. An example of this can be found here: http://app.apigee.com/console/fc94b16d-bc77-46d8-a743-192f366268fa/rendersnapshotview

Apigee's API Console for Twitter supports no-auth, basic auth, and OAuth and handles all API methods available from http://api.twitter.com.

"Getting insight into the APIs that applications are built on has been a blind spot for developers," said Eugene Mandel, co-founder of MustExist, Inc, an application that locates what Twitter mavens are reading. "Apigee for Twitter solves this problem with a purpose-built solution to give the many Twitter developers information and utility they've never had before."

Apigee is provided free to the API community by Sonoa Systems, and is built on ServiceNet, Sonoa's industrial-strength cloud service and API infrastructure which powers MTV Networks, MySpace, and over 75 other enterprise customers.   Developers can sign up get started with Twitter API testing and monitoring at www.apigee.com today.

About Sonoa Systems

Sonoa is the leading provider of API management solutions. Sonoa customers include over 75 leading enterprise, SaaS and media companies. Leading customers such as TransUnion Interactive, MTV Networks, MySpace and Guardian Insurance use Sonoa to create new revenue channels, reduce costs and innovate faster. The company is based in Santa Clara, CA, privately held, and backed by leading investors including Norwest Venture Partners, Bay Partners, Third Point Ventures and SAP Ventures. For more see www.sonoasystems.com.
For a cost of 'free' you're going to be hard pressed to find an easier option.   Whether your an enterprise fortune 500 company, or a developer working out of your apartment in your PJ's (we won't tell

), you're going to get the same powerful service and tools using Apigee.
So what are you waiting for?  Check 'em out at Apigee.com
[sample debugging screen - click image above to enlarge]