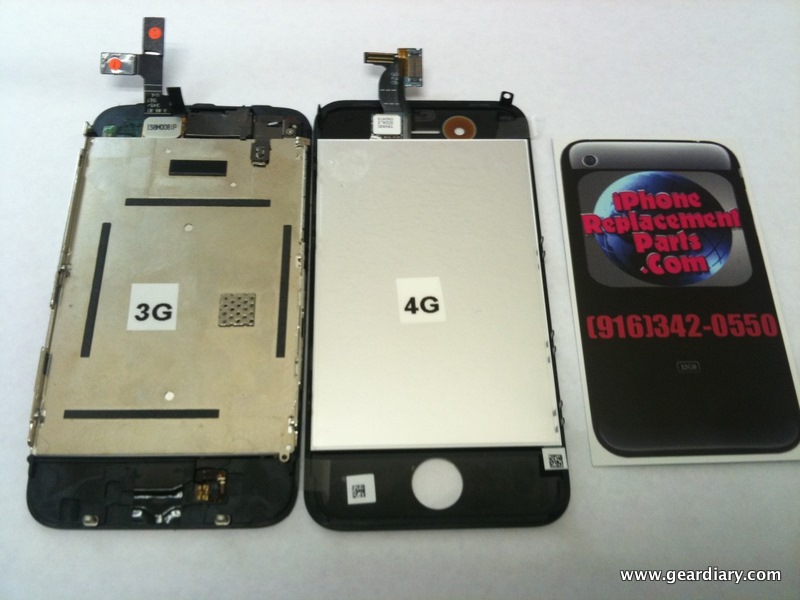 According to iPhone Replacement Parts this might just be the glass assembly for the leaked Apple 4G iPhone.  The company who repairs iPhones reached out to me on Twitter with some interesting pictures of what appears to be a glass assembly that fits with the leaked pictures of the 4G iPhone floating around.
Sure enough the glass assembly they have has the cutout for a front facing camera and  a black edge along the sides of the screens.  The camera lens cut out looks to be in the exact place that it appears in the Gizmodo pictures that were released earlier today.
When I asked the company about the images their response was:
Since we repair iPhones a lot of chinese suppliers contact us via email and try to have us buy their iPhone parts. I was scanning through one of their price lists and they had a product called "iPhone 4G LCD Glass screen assembly." I thought it was to good to be true. I contacted them, purchased the screen, they sent it to us and it was way different than the 3G and 3GS. Our "4G/HD" screen we have looks like it would totally fit the one gizmodo has on their website!
Nowhereelse had a video of someone unboxing a similar looking part back in early March.  Now it looks like perhaps that part was legitimate as well.
All of this is of course still rumor and speculation and until we hear from Apple for sure, presumably on June 22nd, we know really know nothing.  But with more and more evidence starting to pile up sooner or later we might all be believers.
Thanks to iPhone Replacement Parts for the tip.