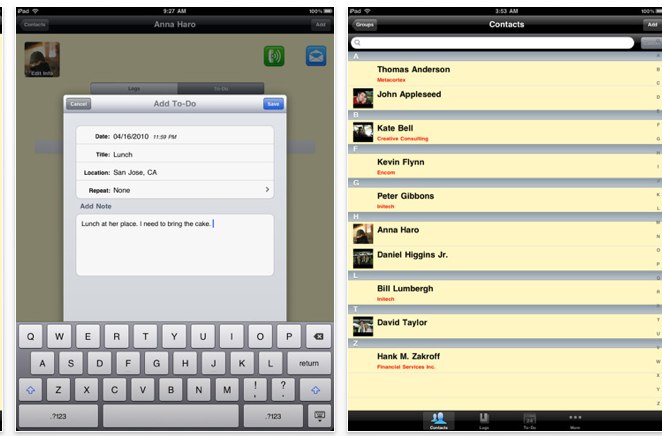 I interact with people all day, day in and day out. So many people that it sometimes becomes difficult to keep it all straight. Over the years I have tried a number of different CRM (Contact Relationship Management) programs but they were either too expensive or the interface wasn't intuitive enough for me to really use. So you can imagine how pleased I was to see an iPad version of the iPhone app Contacts Journal.
The Developer of the app describes the app in this way.
Your day is full of meetings, phone calls and emails with so many people – clients, colleagues, customers. How do you remember who you talked to, what you discussed, and when to follow-up? Organize and track it all with Contacts Journal.

Integrated with your iPhone and iPad Contacts, Contacts Journal is the first personal Contacts Relationship Management (CRM) system, now available for the iPad. It's like having a diary and to-do list, for each of your contacts, all in one app.

- Log all your interactions with your contacts; review them to prepare for the next meeting
- Add to-dos for your contacts to remind yourself of important upcoming events and follow-up steps
- View all your logs across all contacts, sorted by date, in a diary format
- View all your to-dos across all contacts in a checklist format
- Export logs for a contact via email
- Email directly from within the app.
- Make calls to contact using Skype (Skype app must be installed)

Our users include small business owners, corporate executives, contractors, lawyers, real estate agents, teachers, nurses, job hunters and many more. As long as you are someone who interacts with many people, professionally or personally, Contacts Journal will keep you on top of things. Don't keep it all in your head – use Contacts Journal to track your interactions with the people who matter.
Sounds great right? Pull in your contacts from the iPad address book, record each interaction, sort through them and no longer have to rely on memory. I bought the app, fired it up…
The iPad version looked exactly like the iPhone one. And that was the problem. Tap the phone icon and you got a message that the iPad doesn't make calls. Tap the SMS button and… same thing. I was not pleased and I left a review…
Okay a little harsh. But then again, I had spent $5 on an app that was, as I said in my review, was a cheap port on an iPhone app.
Then an update came out that addressed both issue.
Gone was the SMS button. And the phone icon now brought up Skype so a call could be placed. I wrote the developer…
I bought Contacts Journal and was very disappointed. In fact I am the one star rating of the last version. So you can imagine how impressed I was to see the update and the fact that you have fixed both of my major complaints with the app. I will, of course, add a revised review. Thank you.
He got back to me and said, "Thanks for your email. You were right though… " (Phew… he wasn't sending a hit team after me.)

He went on…
I was mistaken in thinking that the iPad 3G will be able to make calls. Turns out, it won't. So I wanted to fix it immediately, and leveraging Skype made good sense, and was easy to do, so I'm glad I got it done. The disadvantage of making an app without having the device in your hands means you make incomplete apps, and then have to refine them as you go along… I realized after I got the iPad how important supporting multiple orientations would be. So I'm working on supporting that with the next update.
He then shared a bit about his plans for the app…
I have a LOT of plans for both the iPhone and iPad versions. The best of the lot will come with iPhone OS 4.0, which will enable setting alerts for To-dos and Calendar integration, which will greatly improve the usefulness of the app. I also plan to make it easier to sync data between the iPhone and the iPad. We are also working on improving the UI and improving how the data is displayed.
I had asked about the possibility of integrating the app with Evernote. He even addressed that, saying,
There is already a way to backup data from within the app, so using Evernote might not be necessary, but I'll look into it.
So there you have it. An independent developer who responds to feedback (even when it is pointed) and is actively working to make the best app possible. Contacts Journal is back on my iPad and I'm looking forward to the updates within the next months.
The iPad version is $4.99 and is available here.
The iPhone version is $1.99 and is available here.
There is even a Lite version so you can try it.