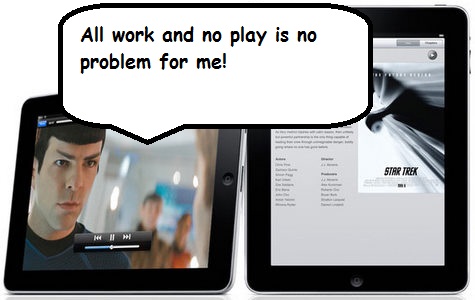 The promise of the Kindle DX, the iPad and other devices has been to lighten the load of college students everywhere. Digital textbooks, lower costs, the ability to adjust content in real time are all part of the allure of ebook readers and tablets in higher education.
But not everyone is on board. The Wall Street Journal is reporting that a number of schools are claiming the iPad causes connectivity issues, and they will not be supporting them or allowing them on their networks at this time. Sorry to any new iPad owners heading to George Washington, Princeton, and Cornell, among other schools!
The Wall Street Journal article also touches on the failure of the Kindle DX in its pilot program at various schools. Every textbook publisher is trying to find new ways to present materials, like Macmillan's DynamicBooks. There's two principle hurdles these companies are facing: the inability to easily note-take and highlight, and the lack of  a secondary used market.
Note-taking is solvable. All it needs are easy, intuitive highlighting, and an easy way to upload notes. The best option would even be to integrate the notes feature with either Snaptic or Evernote for easy reference off-device. Most importantly, the interfaces need to be more focused on interacting, rather than just reading, the content.
Used textbooks are a huge market, both for college students and college bookstores. Macmillan even acknowledged this with how they plan to price their Dynamic books. Personally, I think this is where the app-ification of ebooks actually makes sense. Develop an app that is tailored to the subject of the textbook, that takes into account if this is a notes-heavy subject or one that benefits from videos and other interactive options, and that's where the value proposition lies.
It's also how colleges with mysterious "network issues" with the iPad will suddenly upgrade their networks very, very quickly.

Are you using your iPad for education? Do you plan to? Share your thoughts below!
Via the Wall Street Journal