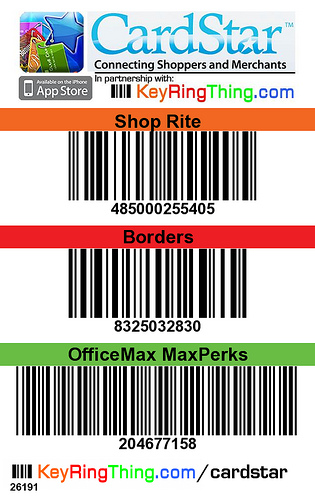 During last month's CTIA event  I had a chance to sit down with CardStar's CEO, Andy Miller.   If you're not familiar with the CardStar application for the iPhone / iPod touch, you should do yourself a favor and download it immediately :-)  It literally replaces having to keep up with multiple loyalty program cards in your wallet, or a keyring overrun with those plastic min-cards.   Simply put, CardStar makes your life easier.   It puts all those loyalty program cards right into a single application.  No more lost cards.  No more digging through your wallet or purse.  No more unsightly keyrings.
So what does CardStar have in store for 2010?  They're branching out in a big way.  Maybe you don't have one of those newfangled iPhones or iPod touches.  That's ok.  The "CardStar Card" was recently unveiled, giving low-tech customers the ability to consolidate six loyalty program cards into a single card.   They're also hitting the brick-and-mortar stores.  That's right, you're going to start seeing small businesses and major chains alike begin to  show off a CardStar sticker in their window.  That's to let you as a customer know you'll be able to use your mobile to get coupons and loyalty points to that business.  It's a win-win for the 'little guys and gals' who own a small business to have the same kind of appeal as larger chains by giving their customers an easy way to save!  Soon Mom and Pop shops across the U.S. can quickly and easily have their own app to draw in customers.   Very nice!
The CardStar team's not just stopping there.  Oh no, they've already been hard at work developing an Android and BlackBerry version of their application (we'll have reviews coming for both apps upon release).    So 2010 will be a very big year for CardStar and consumers who like saving!  A non-techie CardStar card, new mobile apps, and expansion to local businesses.   In a nutshell, CardStar is making customer loyalty easy.   Read on for more on CardStar's new services.

CardStar Launches CardStar Card,
Brings Mobile Loyalty to Masses
CardStar has experienced tremendous growth since launching in mid-2009, cementing its position as the most used mobile loyalty application in the world:

More than 1.2 million downloads
More than 5 million app sessions
Actively used in all 50 U.S. states and in 156 countries worldwide

CardStar recently closed $1 million in its Series A round of funding, led by Amplifier Ventures and joined by Acta Wireless, LaunchCapital and angel investors. CardStar will use the funds to increase its application's functionality for users, explore expansion on the Android and BlackBerry platforms and continue adding features to make CardStar the most efficient mobile marketing and couponing platform for merchants.

Today, CardStar is announcing a partnership with 

KeyRingThing

to release the CardStar Card, which consolidates six loyalty, reward or membership cards onto a single card the size of a credit card:

CardStar is now the only mobile loyalty company with a solution that works for everyone — this new product makes it possible for anyone, with or without a smartphone, to take advantage of loyalty card consolidation.
All CardStar merchant deals will now be available to CardStar Card holders online and via e-mail, giving them the same easy access to coupon discovery that CardStar app users have through the "deals" tab in the application.
The CardStar Card is available now at www.mycardstar.com/keyringthing.

CardStar has signed an exclusive agreement with Chase for an integrated campaign promoting the new Chase Freedom cash back card to CardStar users. Chase advertising will be featured in the application, including a tailored content page and a click-to-call option.

CardStar's free iPhone application makes it easy for users to consolidate all of their loyalty, reward and membership cards in a single place for easy retrieval. CardStar also offers mobile loyalty services for merchants of all sizes, including merchant messages and information as well as mobile coupons.
Get CardStar for free from the iTunes App Store.