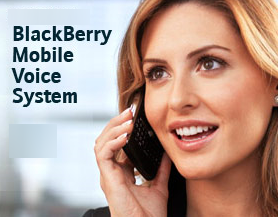 A universal number and system that can reach you regardless of whether you're at your desk, at home, traveling for a business meeting, hitting golf balls on the greens, or just hanging out by the pool.   Exciting stuff, right?  Well, when RIM first brought it up at the 2007 Wireless Enterprise Symposium (WES), it sounded pretty neat.
Fast forward 3 years.    Cisco has their own unified communications solution.  Google Voice is prized by all that were lucky enough to get in on the beta (even when it was originally Grand Central).   To RIM's credit, their reps did confirm that their Mobile Voice System 5 implementation would work with Cisco's solution — and offer more security and flexibility of control.
The overall idea, though,  has lost a bit of luster when RIM touts it now. In 2010.   Sure, there are additional bells and whistles — namely security policy extensions and IT controls — but, really, is anyone that excited??
It works over WiFi, so it's being advertised as a major cost saver for companies.  Which is great, with a few caveats.   One, your company would have to integrate these features into their infrastructure.  Adding middleware, like the current BES  (BlackBerry Enterprise Server) to manage calling is not likely something many businesses will be too keen on right now.  There's this global recession going on, and well, companies want to eliminate costs.  Now,  I know WiFi calling will save minutes.  That's all and good.   But here's the big thing:  It's manually controlled by the user.
What I mean by this is I would need to manually switch between celluar and a WiFi network.  Be it a router at the office, home or local starbucks.  Doesn't matter.  It's secure (which is good), but I have to make the switch myself.  I can't leave the office, hop in the car, drive home and listen to that conference call — not that I'd ever do that

— and have the call seamlessly switch between my office PBX, cell tower, and WiFi Network.  Nope.
I have to change that option myself.   If I don't, guess what happens?  The call drops.  D-R-O-P-S.  Let's think about that one second.   Manually change the setting each time I want to route the call from desk/landline to cell to WiFi.  That's a pain.  Sure I could do it, and the world wouldn't stop spinning over the need to make the switch.  But if you're a company with a lot of BlackBerry users, are you really going to want your IT staff to have to train your employees on switching between PBX-cellular-WiFi when they're on calls?
How many people really stop and read through instructions?  If you're getting over 100 emails a day, chances are you won't be prioritizing the one that instructs you how to use your phone in a 'new and exciting way.'  Sure, that's lazy.  But it's true.
Then what happens when the company CEO starts dropping calls?  He or She may change their BlackBerry thinking it's 'hardware' related.  Same issue.  Then they may call the carrier (OK, have their assistant call the carrier).  Then they contact IT.   Then they get the lowdown on having to manually swap around how they manage their 'seamless' calling and it's over.   IT gets a kick for implementing something that impacts employee productivity (e.g., having to change their settings for the convenience of mobile calling anywhere).
Yes, this is the most extreme scenario.  But also a very likely one.   So now that RIM is pushing their Mobile Voice System 5 solution, the big question is….does anyone even care??