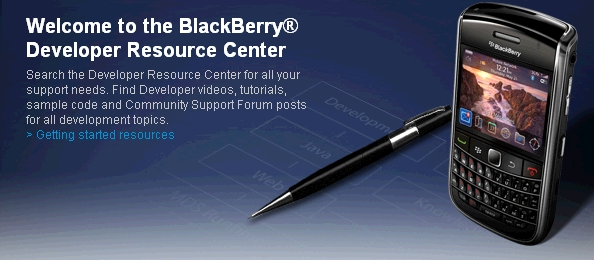 You gotta hand it to RIM.  They're really working hard to earn developer love.  Today, the Canadian mobile phone giant announced the BlackBerry Developer Resource Center.  This portal will make things much easier for developers who need or want to build some BlackBerry apps.
Part of the problem — and the complaint from developers — is that the BlackBerry platform itself has traditionally been a pain to build apps for in the first place.   So much so, that RIM has pretty much completely redone their strategy to implement easier tools, with integration into existing development software like Eclipse (and, maybe some day soon, Adobe's lineup of utilities …since that was announced during last November's BlackBerry Developer Conference).
Bottom Line:   If you want to develop for BlackBerry, you'll be able to easily locate tutorials, videos, and quickly access the information you need.  No more frustrating hours digging through the BlackBerry site.  Now you'll just be frustrated coding that app

Let's hope RIM can build developer momentum…before folks just throw their hands up and fully concentrate on Android (like Skyfire did).
[BlackBerry Developer Resource Center]