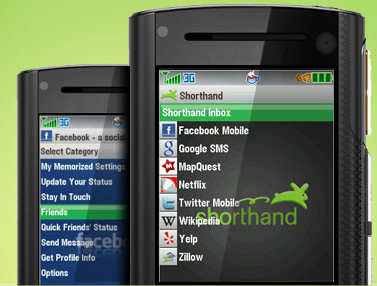 Smartphones are all the rage, right?  We're a society that's constantly connected via our high-priced unlimited data plans to keep us Facebookin', Tweeting, and reachable 24x7x365.   Add our insatiable desire for apps — be it games or the latest and greatest promise of added productivity — and we'll gladly fork over a few more bucks.
So what is all this about "dumb" (feature) phone apps?   I mean, first there was the announcement that AT&T was going to push Qualcomm's BREW platform for feature phones.  Now we see that Shorthand Mobile is bringing even more app goodness to phones that don't require a data connection.
Could this be the next 'App Goldrush??' Read on to see why carriers and consumers alike love this new appraoch.
Shorthand Mobile puts apps right on feature phones, without requiring data plans.  This is a big deal for developing countries where data plans are not as prominently used as in North America.   It's also a boon for parents of 'tweens' who don't want to fork over extra hard-earned money so their kids can Facebook on the go.
And let's not forget the carriers.  They LOVE this.  It all goes through SMS.   Little cost for them, and they're able to save a little bit of their clogged data pipe.    What's great is that using a platform like the one provided by Shorthand Mobile, you can download and use 'Apps' that rely on SMS.  It's a featured GUI that will let you text and use a variety of applications — the before mentioned Facebook, Twitter,  Netflix, ESPN, etc– all through Shorthand Mobile's App Finder.
So whether you're interested in lessening those monthly bills, giving your tweens their first taste of mobile app fun, or just tired of trying to keep up with the latest smartphones and want a simpler life (albeit, not completely amish

) — then it looks like Shorthand Mobile is where you wanna look.
SHORTHAND MOBILE ANNOUNCES NEW CATEGORY OF APPS – TEXTAPPS

World's First Text-Powered Apps Premiere, Delivering the Best of the Web to Millions of Consumers Without Data Plans
San Diego, CA  – Shorthand Mobile, Inc. is today announcing the launch of TextApps (www.shorthandmobile.com), a completely new category of apps that deliver content from top websites via SMS in a rich, interactive, graphical interface. Shorthand TextApps expand the capabilities of even the most basic phones and provide access to web content for the majority of mobile users without data plans.

"While there is incredible buzz around mobile app consumption, in reality, only 12% of the almost four billion mobile phone subscribers worldwide actually have data plans.  Countless people are left sidelined when it comes to accessing mobile content. Shorthand is changing that," said John McDonough, CEO and Founder of Shorthand Mobile. "Shorthand Mobile's TextApps will bring valuable and popular web content to the mobile masses worldwide, many of whom don't yet have access to wired Internet. And it's all powered by SMS."

Launching in beta today on select Motorola and Nokia handsets on AT&T and on Windows Mobile phones across major U.S. carriers, Shorthand TextApps use SMS to expand access to top brands and mobile content including:

Social networks

Local search with user reviews

Sports scores and headlines

Weather forecasts

Movie times and rental queues

News and entertainment

Fast food text-ordering


In addition to launching in the US, Shorthand is now available in India on all major carriers and will launch in Brazil this spring, offering localized TextApps including social networking, job search, entertainment and news.

"Text messaging (SMS) will continue its dominance in the messaging arena for the foreseeable future and will evolve with additional features over the next three to five years," according to a recent study by global research and consulting firm, Frost & Sullivan. Shorthand Mobile finds itself in the epicenter of this eco-system, opening doors not just for mobile consumers but also for brands to connect with them in more targeted and innovative ways.

Using Shorthand's proprietary rapid development tools, TextApps can be published for content providers within days and offer the best way to reach mass-market mobile users without data plans.

With a rich user interface, Shorthand TextApps offer an enhanced look-and-feel and deliver functionality not possible when using regular SMS.  Intuitive, scroll-and click interactions deliver a seamless user experience and eliminate the need to remember or type short codes or keywords.

Shorthand TextApps are free-of-charge and can be downloaded now at shorthandmobile.com.  A one-time download accesses the data channel, standard data rates apply.  Because Shorthand works with text messaging, standard messaging rates apply based on the user's text plan.

About Shorthand Mobile, Inc.

Based in San Diego, Shorthand Mobile, Inc, is the world's first text-powered app store offering the first text-based apps, TextApps. Shorthand's TextApps work via SMS to deliver a rich, interactive user-experience for mobile customers worldwide without data plans.  Because they use SMS, TextApps are the best way for websites and content providers to reach the largest possible mobile market.  TextApps are designed to give access to mobile content ranging from social media to finance to entertainment on the phones people already own, using the plans they already pay for.  For more information, please visit www.shorthandmobile.com.