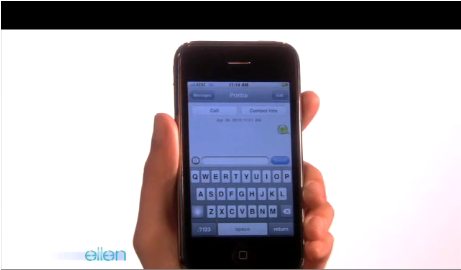 In the wake of the iPhone 4G prototype loss, recovery investigation etc. you can not help but wonder if Apple is just a little sensitive these days.
First John Stewart poked fun at the company with a video on his Daily Show.
Yesterday Ellen aired her own Apple commercial where she poked at little fun at the company too, this time having nothing to do with the 4G scandal.  In the video Ellen makes fun of the iPhone while having trouble using it to text her wife.
Well apparently the folks at Apple didn't like Ellen's pretend ad, and called they her on it forcing the talk show host to publicly apologize for the rift on her show today.
Ellen proclaimed, "I love my iPhone, my iPad, my iPod……"
See the whole story here.
Via the Ellen Show via X-17.