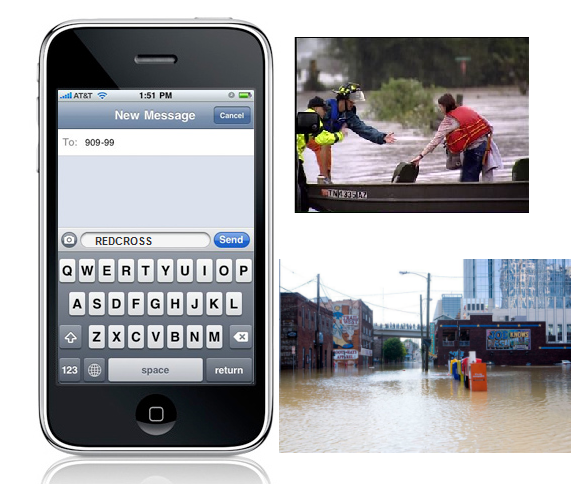 Nashville, Tennessee was recently devastated by flooding.   Many families have been displaced as their homes and possessions were literally submerged under water or completely washed away.  The disaster is one  that has hit especially hard for me  since I grew up in Tennessee, and still have  family and friends living throughout the state.    While local communities in the area have certainly come together to help those impacted,  I know many people– like myself — would also like to contribute in some small way.
That's where the American Red Cross comes in.   The organization is helping  to shelter and feed those impacted by disaster (just like they did after the earthquake in Haiti).  While each of us as individuals may not be able to do everything to help, coming together and doing something as simple as sending a text to '90999′ and inputting 'REDCROSS' will provide a $10 donation (charged to your wireless bill).  Multiply that $10 by thousands of givers and you can imagine the ripple effect.   A very simple action suddenly helps make a huge difference in someone's life.
The American Red Cross's 'Text 2 Help' disaster relief fund is set up to assist disaster victims across the country.  Read on for a list of participating U.S.  wireless carriers.
Direct from the American Red Cross 'Text 2 Help' site:
TEXT "REDCROSS" to 90999

This mobile fundraising initiative is a partnership between the American Red Cross, Mobile Accord and the mGive Foundation.

Customers of participating wireless carriers can text message "REDCROSS" to 90999 and make a $10 donation to the American Red Cross Disaster Relief Fund. Donations will appear on customers' monthly bills or be debited from a prepaid account balance. Message and data rates may apply. After sending your text message you will receive a confirmation text that asks you to reply "YES" if you intend to donate. After that, you will receive one more text asking you to reply "YES" if you want to receive text updates from the Red Cross. If you would like to opt-out from receiving future updates, you simply do not need to reply to this message, or you can send "STOP" to 90999. To see the terms applicable to donations, please visit www.mgive.com/A. Receipts for donations are available at www.mgive.org/receipt.

American Red Cross Disaster Relief Fund

You can help people affected by disasters, like the recent floods and tornadoes, by donating to the American Red Cross Disaster Relief Fund. On those rare occasions when donations exceed Red Cross expenses for a specific disaster, contributions are used to prepare for and serve victims of other disasters. Your gift enables the Red Cross to provide shelter, food, emotional support and other assistance to victims of all disasters. You may also call 1-800 RED CROSS (1-800-733-2767) or 1-800-257-7575 (Spanish) or mail your donation, to the American Red Cross, P.O. Box 37243, Washington, DC 20013.

Participating Carriers:

AT&T
Verizon Wireless
T-Mobile
Sprint
Alltel
Virgin Mobile
U.S. Cellular
Cricket
Cell South
Cellcom
nTelos
Plateau Wireless
Pocket Communications
Union Wireless
NEMont Tel Coop
Simmetry Wireless
MidTex Cellular
Leaco Rural
CableVision
Hawkeye

Text REDCROSS to 90999 Frequently Asked Questions
Special thanks to Diana for spreading the word on how to help!
[Photo & Image Credits:  Joy Engine, KMOX News and Nashville WX]