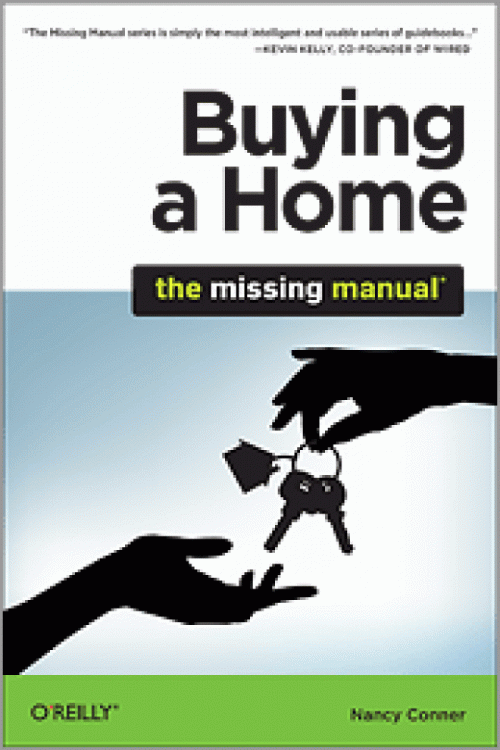 Owning and buying a home is hard. And while it's easy for people to share tons of opinions, they generally fall short with specific help. Luckily, O'Reilly Books have a "Missing Manual" to help guide you through the whole agonizing process. And O'Reilly offers their books in a bundled way that more publishers should try; you can buy the book  itself for $21.95, or you can add in an extra $3.00 and buy the book/ebook bundle for $24.95! I believe O'Reilly's ebooks are all DRM-free as well, so you can keep the ebook as a handy reference on any device you choose. Though thunking your Kindle down for emphasis doesn't have the same effect on an underwriter…
Sebastopol, CA—Home ownership is a cornerstone of the American dream, but it's a complex process that, without the right guidance, can seem like a nightmare. In Buying a Home: The Missing Manual (O'Reilly Media, $21.99 USD), real estate expert Nancy Conner takes you through the process of buying a home, from start to finish.

Along the way, you'll use the book's expert advice and fill-in forms to identify the house you want, figure out what kind of neighborhood you want to live in, determine what a target home is really worth, make an offer, and close the deal.

Throughout the process, this book helps you:

Buy smart. Figure out what you can realistically afford in a home.
Assemble a team. Put together a real estate team that looks out for your interests as you shop, negotiate, and buy.
Find the right home. From foreclosure deals to just-built homes, look at all of your home-buying options.
Get financing. Choose from a range of down-payment and mortgage options to find the financing that's right for you.
Make the right offer. Determine a property's true value before you bid, and learn how to negotiate the best deal.
Protect yourself. Learn how contract contingencies, insurance, and warranties safeguard you.

Let a real estate pro walk you through the complex process of buying a home, with clear explanations and comprehensive coverage. You'll learn home-buying basics and find insider secrets, like what to look for in a neighborhood, whether you're in a buyer's or a seller's market, and ways to protect yourself from a bad deal. Get the tools you need to shop for and buy a home with confidence!

---

Buying a Home: The Missing Manual is the second in a series of three books—including Your Money: The Missing Manual and Personal Investing: The Missing Manual—aimed at helping readers make sound financial decisions.