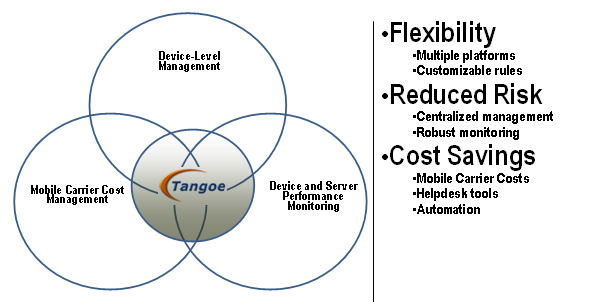 As companies continue to "go mobile" to take advantage of giving their employees the means to manage their work anytime or anywhere, the inevitable problems of how to manage devices and costs quickly becomes top priority.  Imagine being able to easily manage all of the service costs for each device — before those pricey overage charges hit from going over monthly minutes or data plan allotments.    Imagine being able to receive an alert to your phone before you start roaming.   Imagine being able to not only keep costs under control, but also ensure security, ease support worries and speed up mobile device deployment in your organization.
Sound like a dream?    A company called Tangoe has made it a reality.   If you've been yearning for a way to easily manage smartphones for business users — whether it's iPhone, BlackBerry, Windows Mobile, Symbian, Palm, Android or a mix of all of these devices — you're going to want to take a closer look.
I was fortunate enough to meet Custie Crampton, Tangoe's Vice President of Mobile Device Management Technology, at RIM's Wireless Enterprise Symposium.  What impressed me most about Tangoe's solution is that it seamlessly gives you control over some of the biggest concerns a company has over trying to manage smartphones and keep those voice and data costs from outweighing the many benefits of going mobile in the first place.
Most companies will hesitate over allowing specific smartphones into their network if they cannot ensure security.  Once they get past that hurdle, the next problem is how to give employees the flexibility they need to do their jobs yet keep costs down.   Tangoe seems to have a very good solution by providing businesses with a portal that tracks how every mobile device accesses the company network.   What was really impressive is that Tangoe's solution is so flexible that you can pull detailed reports based on device type (something upper management is always requesting), or even configure the system to send your users an alert if they're about to go over their monthly minutes.  In this way, you are making your business proactive instead of reactive.
Employees can have their wireless provider increase monthly minute plan, if needed, to avoid huge penalty fees.  The same is true for international data roaming.  Have someone forget to contact their wireless provider to enable data roaming while they're jaunting across Europe getting the "big deals" done?   Tangoe's system will alert them so they can make the changes needed (saving you and your business a lot of time and money).  If you're really needing to bring the point home to some of your "problem" mobile users you can even configure Tangoe to turn features — like voice or data — off when the person is roaming or exceeding their monthly plan.   That's a bit nasty, but sometimes you have to do what makes business sense — especially in this economy.  Straight from Tangoe:
With Tangoe MDM, global enterprises can:
Provide centralized management and control

Automatic deployment of applications based on information about the user/device, which ensures that device-specific application versions are properly deployed to the correct devices.
Whitelist/blacklist application control, which ensures that corporate data on devices is secure from unauthorized mobile applications.
Complete application reporting for application rollout planning and exception purposes.
Ability to deploy and remove applications via on-device MDM (Mobile Device Management) client.
Check out Tangoe's suite of mobile management solutions via their website.