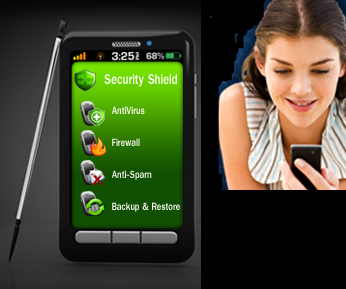 Growing up with today's technology has its advantages.   Constant access to family and friends via social networking, and the ability to take all of your music, photos and videos with you wherever you go are just a few perks.   As many parents will tell you, there are also downsides to growing up in  the "always connected" generation.
Kids can all to easily be maliciously bullied via texting, Twitter and Facebook.   All without any physical contact.  Even worse, kids can even become targets for sexual predators — all from that mobile phone you gave them only for 'emergencies.'     A company called SMobile is working to help families block what's dangerous, while offering monitoring and location-based services to help ensure your child's safety.
Read on to see SMobile's full list of features and learn how it can help protect your loved ones.
Mobile Security Application Provides
Critical Protections to Parents
With millions of pre-teens and teenagers carrying mobile phones, instances of cyber-stalking, cyber-bullying and "sexting" (sending sexually explicit images or text messages) are on the rise, and has resulted in everything from the prosecution of children and parents to teen suicide.  To help parents protect their children from these "mobile assaults," SMobile Systems, the leading provider of security solutions for mobile phones, has unveiled the latest version of its Parental Controls and Monitoring service to now include GPS tracking and picture monitoring.

The Parental Controls Dashboard is an easy-to-use, web-based software, which provides parents with insight into their children's mobile activities and location to help ensure their safety.  SMobile's Parental Control Dashboard enables parents to define and set keyword alerts, view the people contacting their child, utilize remote location services, and monitor pictures, images and messages sent to and from their child's phone.

"Cell phones have become powerful mobile computing devices, complete with digital cameras and video recorders.  As smartphone prices continue to fall, they have become a 'must have' for kids and teens," said Neil Book, CEO of SMobile Systems. "There's a perception out there that if we put parental control software on our desktops at home, we're keeping our kids safe from cyber threats.  But the reality is, our children are walking around with handheld computers in their pockets that are connected to the internet 24 hours a day. Our goal in developing the Parental Controls Dashboard is to give parents a similar set of tools to monitor their kids' mobile activities as they have with programs like NetNanny and other Internet solutions for monitoring their personal computers."

The core functionality of the Parental Controls Dashboard includes:

Monitoring

View the content of Email, SMS and MMS messages on the phone
View all pictures taken, sent and received by the device
View logs of all voice conversations
View the complete address book and all applications installed on the phone
View phone location 24/7.

Security

GPS tracking using Google Maps
Remote device backup, lock, wipe and restore
Anti-Virus and Anti-Malware scanning
Communication Control features for filtering of calls and text messages.

SMobile's Parental Controls Dashboard won Disney's iParenting.com "Outstanding Product Award" for 2009.

About SMobile SMobile, Inc. has created the first and only complete line of products and services that securely protect mobile phones and the global wireless infrastructure from hackers, viruses, data compromise, unauthorized data theft and the effects of lost or stolen devices.  The company's security applications include virus and malware detection, text message and data filtering, prevention of unwanted messages from interrupting the user, spam blocking, enterprise management, protection for mobile professionals from harmful data on open networks and data security and password-protection for content and files. The company's Parental Controls software won Disney's iParenting.com "2009 Outstanding Product" award for its Security Shield Parental Controls software. SMobile is headquartered in Columbus, OH with facilities in Fort Lee, N.J., Chicago, IL, Dortmund, Germany, and Pune, India. The company is privately held.
Check out SMobile's full line of products and features on their website.