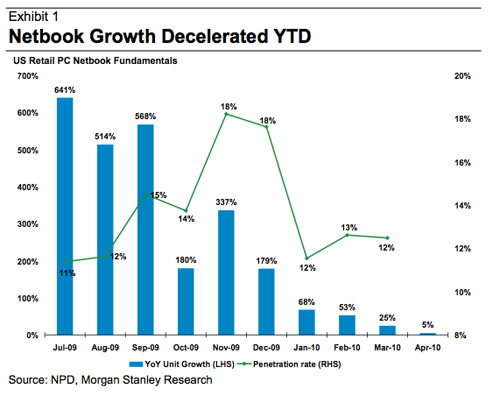 I remember many years ago an impassioned speech from a new Director of Engineering about how a former colleague who had become a VP at a competitor said they were opening a manufacturing site in the US and were going to 'eat our lunch'. And while the symbolism and tactics used were generally less effective as a motivator than as years of joke fodder … the core issue remains: there is always some product / company / market that is getting ready to eat your lunch.
Electronista reports on a study by Morgan Stanley that says this is being played out now: the iPad being the lunch eater, and netbooks being the ones left going hungry. Here is a chart they reference:
This is a great graph – it shows the year-to-year sales growth of netbooks, and also the current penetration of netbooks in terms of the overall laptop market. What it DOESN'T show is a drop in sales or a direct impact of the iPad.
As noted before, there is positive growth across the board, with the graph showing that growth is slowing. Looking at penetration, aside from November / December of '09 (netbooks for Christmas?) the penetration held pretty steady at ~12 – 14%. The other problem is that the data used in the study ends before the iPad was even announced, meaning there is loads of speculation involved.
The report also contained a chart of potential losers from the 'iPad explosion'. The chart highlights Apple's iPod and iPod Touch as definite potential casualties, as well as ereaders (Kindle, Nook), handheld gaming devices (Sony PSP and Nintendo DS), and even laptop & desktop computers. I mentioned not bringing an iPad, not using my PSP Go, and not having an eReader on a recent trip in my recent iPad vs. netbook article, and also the extent that I was (and continue to be) able to do a load of basic computer tasks on my iPad. Again the study data is from before the iPad launched, making it speculation, but it will be interesting to see how it plays out.
The interesting thing is that since the initial report came out, Gartner has their own set of data that shows that Q1'10 sales of PC;s grew by 43% over the previous year, and the largest contributors to that growth were Acer and ASUS, the two largest netbook vendors. GigaOM cites ABI research as saying that the netbook has gained 71% compared to Q1'09, but since pretty much EVERYTHING tanked during that time period it is hard to judge. Suffice to say that the netbook isn't dying.
One concern I have always had is that while netbooks gained primary success as very inexpensive and very portable limited-scope devices, over the past year or so there has been a considerable broadening of the segment, one that often causes confusion with consumers. A new study (I'll get to it in a second) shows the reasons folks like netbooks:
Part of this comes from the ever decreasing cost of mobile computers, which Gartner reports as having slid 15% in 2009! Netbooks are generally well below that figure, many costing $200-300. But it seems that while the mean laptop price is dropping, the mean netbook price is increasing! The move to Windows as the standard OS added at least $50. Adding Ion graphics chips and higher performance disks and more memory (to feed Windows) keeps the price escalating … to the point where I could but the Dell Inspiron 11z laptop for $200 less than a decently equipped HP Mini311 netbook!
Now a new survey is out that polled more than 1000 netbook shoppers in the wake of the iPad release. The study looked at whether the impending iPad release made them hold off buying, and what they ultimately decided. The numbers are sobering for netbook makers: a full 70% held off buying anything, with 30% of potential netbook buyers grabbing an iPad instead.
And now that the iPad has landed, and even though it can neither print nor play Flash games (aghast!), the study looks at what potential netbook buyers are thinking as they come to a decision between that ~$400 netbook and >$500 iPad:
So the data is pretty clear that the netbook isn't dying yet, the fact that ~36 million netbooks sold in 2009 with an estimated 45 million in 2011 compared to projections of ~15 million iPads means loads of money for netbook makers.
But as everyone has said all along, the folks least interested in growing the netbook segment as a whole are the netbook makers! Why? Because that $300 netbook from ASUS or Dell us the lowest profit margin product they make. So for them, making sure they have an excellent low-end product to capture sales at that price point while simultaneously creating confusion at the mid-range works well, since it is pretty easy for that $500 basic laptop to end up at $650 or more by bulking up on memory and storage and other add-ons. And more and more it looks like folks are focusing on low-end laptops as opposed to netbooks for light computing needs.
So to state it again: netbooks are under attack – as is every other product segment! They are facing pressure from the iPad, presumably from HP's WebOS tablet later this year, and from the downward creeping price of smaller laptops. The netbook won't be going away anytime soon, but don't expect exponential growth anymore as it is no longer a novelty but an established product.
So it is time to put down the Kool-Aid (the Apple kind for those fanboys, and the Jim Jones / Guyana kind for those who saw the death of netbooks in the numbers) and realize that this is a massive market, capable of supporting myriad devices to support our myriad computing needs.
Source: Electronista for the original study, and thanks to VentureBeat for highlighting the new study!