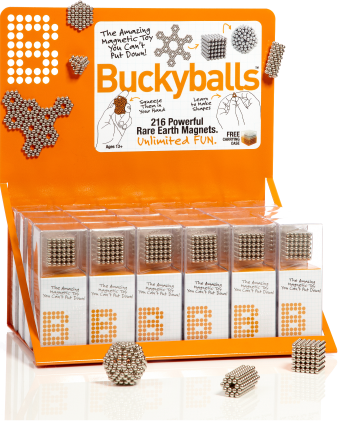 Normally I like to be light and jokey for the news items, but recalls because of danger–particularly with toys–can be scary business.  So rather than make jokes about Saturday Night Live or something, I'm just going to give it to y'all straight:
Toy (or "sundries," as they say) maker Maxfield and Oberton has issued a recall notice for their popular Buckyballs magnetic toy.  The U.S. Consumer Product Safety Commission has found that the toy is a swallowing hazard for children; two kids have swallowed the magnets, but not been injured.  Still, the notice has been issued.
Full information below.
FOR IMMEDIATE RELEASE May 27, 2010 Release #10-251 Firm's Recall Hotline: (888) 847-8716 CPSC Recall Hotline: (800) 638-2772 CPSC Media Contact: (301) 504-7908 Buckyballs(r) High Powered Magnets Sets Recalled by Maxfield and Oberton Due to Violation of Federal Toy Standard WASHINGTON, D.C. – The U.S. Consumer Product Safety Commission, in cooperation with the firm named below, today announced a voluntary recall of the following consumer product. Consumers should stop using recalled products immediately unless otherwise instructed. It is illegal to resell or attempt to resell a recalled consumer product.

Name of Product: Buckyballs(r) High Powered Magnets Sets Units: About 175,000 Importer: Maxfield and Oberton LLC, of New York, N.Y.

Hazard: The high powered magnets sets were labeled "Ages 13+" and do not meet the mandatory toy standard F963-08 (effective August 17, 2009) which requires that such powerful magnets are not sold for children under 14. Magnets found by young children can be swallowed or aspirated. If more than one magnet is swallowed, the magnets can attract each other and cause intestinal perforations or blockages, which can be fatal. Incidents/Injuries: The firm has received two reports of children swallowing one or more magnets. No injuries were reported.

Description: This recall involves the Buckyballs(r) high powered magnets sets labeled "Ages 13+". The set contains 216 powerful rare earth magnets. It is intended to build unlimited shapes and patterns. Since March 2010, Buckyballs(r) high powered magnets sets were labeled "Keep Away From All Children" and are not being recalled. Sold at: The recalled magnets were sold at a variety of stores, including stores selling children's toys, stationery and office supplies and various online sites from March 2009 through March 2010.

Manufactured in: China

Remedy: Consumers should take the Buckyballs(r) high powered magnets sets labeled "Ages 13+" away from children under 14 immediately and contact Maxfield and Oberton for instructions on receiving a refund upon return of a complete set of magnets.

Consumer Contact: For additional information, contact Maxfield and Oberton at (888) 847-8716 between 7 a.m. and 6 p.m. CT Monday through Friday or visit the firm's website at www.maxfieldandobertonsafety.com To see this recall on CPSC's web site, including pictures of the recalled product, please go to: http://www.cpsc.gov/cpscpub/prerel/prhtml10/10251.html