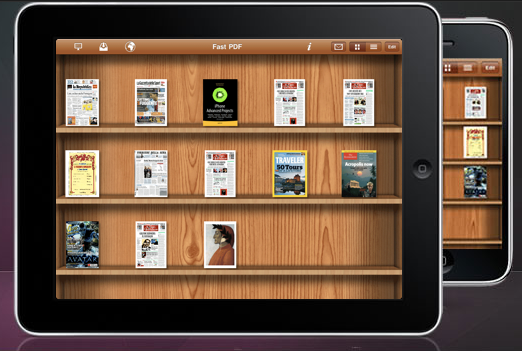 There are a host of good PDF readers now available for the iPad that are worth a look. Today we'll take a quick peak at one of them. Fast PDF is a PDF reader that offers a limited range of features but one killer "feature" that makes the current introductory price of $.99 a steal. It offers…
–A nice bookshelf view that offers previews of each document (think iBooks)
–One or two page views
–Full screen reading as well as rendering pages in portrait and landscape
–Bookmarking
–iTunes sync as well as file management through the browser and WiFi and emailing of documents
At the same time it lacks features that would make it far more useful such as folders since, once you add numerous files, it can become cumbersome to navigate.
The app does, however offer one feature that makes it stand out from the pack. That feature is no secret since the app is actually named after it. Fast PDF is by far the fastest iPad app for rendering PDFs that I have seen. Whereas a full-featured app such as Papers can take multiple seconds to first open a PDF and then has a brief period of blank screen when advancing from one page to another (rather similar to changing pages when using an eInk on a Kindle or nook) Fast PDF loads a new document in no time and moves from one page to another without pause. The difference is easily noticeable. Here's a look at just how fast it is…
There are times when I am using my iPad for public speaking with the text in the form of a PDF. In those cases Fast PDF is by far the best app for PDFs. Similarly, if I am reading a long document that is in PDF format I will open and read it in Fast PDF so as to avoid the "white-page delay". No, it won't replace a full-featured PDF app like GoodReader, ReaddleDocs or iAnnotate PDF, as a PDF viewer it can't be beat.
Fast PDF is available in the App Store for $.99 and can be found here. Details can be found here.
What I Like:
Fast… really really fast.
What Needs Improvement:
Limited settings and functionality but it is FAST!