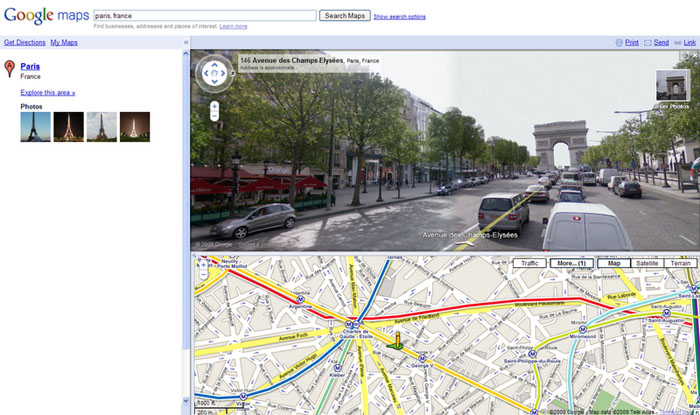 Detroit automakers Ford and GM both announced this week the coming availability of turn-by-turn directions in their vehicles courtesy of Google Maps. Ford will offer this convenience via SYNC technology (using the customers mobile phone) and GMs will arrive a la OnStar. Unfortunately this means the technology is only good so long as a cell signal remains. For those who find themselves EXTREMELY lost, I suggest making sure you bring along a boy scout or homing pigeon before leaving the connected realm.
For me, I will continue to trust the latest satellite-based GPS navigation technology offered in most of the new vehicles and handheld devices on the market today. And the compass in my iPhone works pretty well too.
Read the respective corporate press releases after the jump:
Ford
DEARBORN, Mich. – Drivers who enjoy the convenience of Ford SYNC® with Traffic, Directions & Information (TDI) soon will be able to select a destination on Google Maps and send it to their Ford, Lincoln or Mercury vehicles.
'Send to SYNC' is a new capability added to the Ford Service Delivery Network, the company's cloud-based architecture, which provides a suite of voice-activated services accessible through a customer's mobile phone.
"Printing paper directions from a website is a relic in our digital age," said Doug VanDagens, director of Ford Connected Services Solutions Organization. "With Send to SYNC, you can map a destination at home, at work – wherever you have connectivity – and when you get to your car, it already knows where you want to go. It's convenient and it eliminates the waste and distraction of paper maps, conserving resources while helping drivers keep their eyes on the road."
The SYNC TDI application leverages a customer's mobile phone voice plan and the vehicle's integrated GPS receiver to deliver location-based services, such as driving directions or business searches, and on-demand information such as horoscopes, news, movie listings and stock quotes. Since these services, including the new Send to SYNC functionality, are cloud-based, no vehicle updates are required and they will be available to all owners who have registered for TDI services through www.syncmyride.com.
When users visit Google Maps on the web to find locations, they will have the option to send a selected destination to their Ford, Lincoln or Mercury vehicle via a "send" menu on the site. Once in the vehicle, the driver connects to SYNC TDI using the "Services" voice command, and when prompted, confirms the request to download the Google Maps destination into the vehicle.
The optimal route is calculated in the cloud using the latest traffic information, downloaded to the vehicle and navigation guidance begins. If the vehicle is equipped with a map-based navigation system, the destination point is downloaded directly to that system, which then calculates the route based on the in-vehicle navigation preferences set by the driver.
"Our cloud-based service network is helping deliver constant improvement for our customers, and has become a key reason why Ford leads the industry with SYNC," said VanDagens. "We're proud to be working with Google to bring this new capability to SYNC."
The Google Maps 'Send to SYNC' capability launches later this month. Ford is currently the only automaker offering this capability without requiring a paid subscription to a telematics service.
Ford previously announced the same feature for MapQuest (owned by AOL), which will launch later this year.
General Motors
Detroit – OnStar and Google have reached an agreement that will let OnStar users search for and identify destinations using Google Maps and send those destinations to the Turn-by-Turn Navigation Service in their vehicles.
OnStar eNav, a feature of Turn-by-Turn Navigation, will become available through Google Maps at the end of this month. Drivers can access the destinations whenever they choose and get OnStar Turn-by-Turn directions to the destination from wherever they are.
Turn-by-Turn Navigation is the most widely available built-in navigation system in the automotive market today.
"eNav is a perfect solution for subscribers who like the flexibility of being able to use Google Maps to plan their trips in advance, but without the hassle of bringing printed maps into the vehicle," said Nick Pudar, OnStar vice president of new business development.
"The eNav feature of our Turn-by-Turn service allows drivers to keep their eyes, hands and minds where they need to be – on the road," Pudar said. "And if they ever need help on the road, they can always just push the Blue OnStar Button to speak to a live advisor."
The Google Maps option will be available on all current Turn-by-Turn capable GM vehicles starting with the 2006 model year and also will integrate with OnStar Destination Download to send destinations directly to the vehicle's screen-based navigation system.
This follows last month's announcement in which OnStar and Google demonstrated mobile mapping and location functions for the Chevrolet Volt electric vehicle that leverage the Google Android platform.
For the 2011 model year, OnStar Directions and Connections service is standard on all OnStar-equipped, GM retail vehicles. General Motors is the only auto manufacturer to offer navigation standard across all price points and all vehicle segments. Since launch, OnStar has delivered more than 54 million Turn-by-Turn Navigation routes, currently averaging more than 1.4 million per month.
OnStar, the leading provider of in-vehicle safety, security and communication services, also announced today that it has been honored with the Best Use of Telemetric Technology in the Public Sector award at the Telemetric Update conference in Detroit.