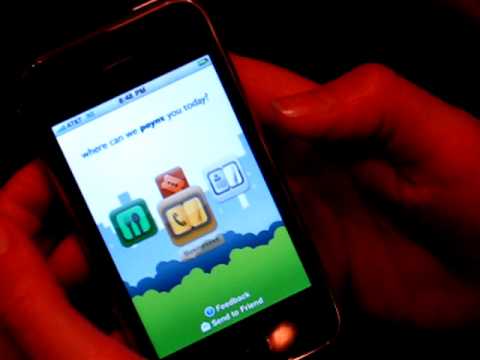 Looking for a specific business in your area?   Just whip out your smartphone and get the info you need, right?   Like most people these days, that's exactly what I do.   But what happens when you still can't find what you are looking for with that fancy-pants  location based application?
Well, if you are a BlackBerry or iPhone user who has installed the popular Poynt application we're quite fond of here at Gear Diary, you'll be able to get live search assistance.  That's right…"live" search assistance.  A person.  Someone who will assist Poynt users.  Think of it as your phone's private On-Star feature.   Interested?  Read on to get the full details.
MULTIPLIED MEDIA ADDING TELUS LIVE AGENTS TO POYNT

Calgary—Multiplied Media Corporation (TSX:V MMC) is pleased to announce it will be enhancing its Poynt wireless application in North America with TELUS live operators.

Multiplied Media has announced a deal with Telus to add live directory assistance within the multi-award winning Poynt local search application.

Telus will provide live agents to assist Poynt users if a business listing they were searching comes back without any results. The Telus feature gives the user the option to talk to an agent to find the listing and push the found results back into Poynt.

iPhone and BlackBerry owners can use the Poynt app to discover the local area around them with listings for businesses, people, restaurants, movie theaters, as well as nearby gas prices and local weather.
"We are pleased to partner with TELUS to provide live agent services to our customers," said Andrew Osis, Chief Executive Officer, Multiplied Media. "TELUS operators have rich business data at their fingertips, which will greatly augment the listings we currently provide our customers when typing on their smartphone isn't possible or when additional business listing content is required."
"Multiplied Media's Poynt is a favorite application for many smartphone owners. With the addition of TELUS live agents we expect Poynt will become even more popular," said Brent Allison, vice-president of Marketing with TELUS Partner Solutions. "We're looking forward to a long and collaborative relationship with Multiplied Media."
About Multiplied Media Corporation Multiplied Media (http://www.multiplied.com) develops and operates mobile applications that enhance the consumers' ability to connect with the people and businesses most important to them. Their multi-award-winning application Poynt (http://www.poynt.com) is a mobile local search service available over BlackBerry smartphones and iPhone and iPod Touch devices. Through agreements with directory and vertical content providers in Canada, the United States and Europe, Poynt simplifies finding and connecting with businesses, retailers and events wherever and whenever it is most convenient for the consumer.
The MyInboxNow offering, from newly acquired UnoMobi (http://www.unomobi.com), enables low-end feature phones to behave like smartphones for email access. MyInboxNow is available to mobile operators as a private label solution. Headquartered in Calgary, AB, Canada, Multiplied Media trades on the TSX Venture Exchange under the symbol MMC.
About TELUS
TELUS(TSX: T, T.A; NYSE: TU) is a leading national telecommunications company in Canada, with $9.6 billion of annual revenue and 11.9 million customer connections including 6.6 million wireless subscribers, 3.9 million wireline network access lines and 1.2 million Internet subscribers and 200,000 TELUS TV customers. Led since 2000 by President and CEO, Darren Entwistle, TELUS provides a wide range of communications products and services including data, Internet protocol (IP), voice, entertainment and video. In support of our philosophy to give where we live, TELUS, our team members and retirees have contributed $158 million to charitable and not-for-profit organizations and volunteered 3.1 million hours of service to local communities since 2000. Nine TELUS Community Boards across Canada lead our local philanthropic initiatives. For more information about TELUS, please visit telus.com.