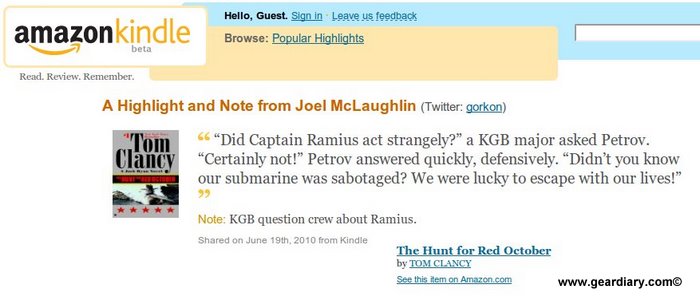 Many Kindle users have been waiting in anticipation of the Kindle 2.5 update for the Kindle 2 and the Kindle DX and now that it is available for download we're ready to see if it does really make the Kindle easier to use.  Or does it fall short of what it should be?
First, getting the update is a piece of cake.  You can wait for your Kindle to receive the update over the air automatically or you can do like I did and download the update from the Amazon Kindle Software Update website.
If you are impatient like me and downloaded the update, here is how you install it.  Just drag the file to the root or top level of your Amazon Kindle.  Safely remove the Kindle from your system and then go to the Home screen of your Kindle, hit Menu and select settings.  From the settings menu, hit menu again and select Update Your Kindle.  It takes a little while and has four stages but then the update finishes up and reboots the Kindle.  One thing to note: either make sure your Kindle is fully charged or attach it to it's USB charger before starting the update to avoid any nastiness that can happen if it powers off during the update.
Once the update is applied, there are many great new features of the new software that I will cover below.
The first new feature is Collections.  This is a feature many of the Kindle faithful have been looking forward to.  Collections is basically like folders for organizing your books.  Instead of all of the books being stored in a big dumping ground like the previous update, you can arrange them in different collections of books.
To do this, you just move the cursor to a book and flick the joystick to the right to bring up the overview page on the book.  Then, select add to collection to add it to a existing collection or a new collection. A book can belong to multiple collections as well so you can have, say the NIV version of the Bible in a collection called Bibles and also in a collection called books I am reading.
The only thing I do not like about Collections is it is just tagging and does nothing for arranging the books on the Kindle's filesystem.  So all of the books are in one folder still when you look at your Kindle when it's attached to a PC.  You can still arrange them yourself in the big folder, if you like, but I just leave them alone.  I do have a folder with PDFs in the main book folder and it works just fine when you view them on the Kindle.
Collections make finding books on your Kindle MUCH easier and it is a welcome feature.
The next feature is PDF Pan and Zoom.  This feature makes the Kindle a much better PDF reader.  When you first open a PDF, it will still open up all 8.5 by 11 inches of the PDF fullscreen, but then you hit the Aa button on the Kindle's keyboard and choose a zoom level and a box pops up.  Select the area you want to zoom in on with the thumb stick and press in on it.  Once it's zoomed in, it stays zoomed in no matter what page you are on and you can also pan around each page as you read the PDF.  Finally I can actually read the PDFs on the Kindle, which is one main reason that I bought the device.
Password Protection is the next feature.  You access it from the Settings menu.  When you turn it on, you enter a password twice and then when you turn the device off, the next time you turn it on you are prompted for a password.  This is handy for keeping prying eyes out of your book collection.
The next feature is more font sizes and improved clarity. While I had no problems with it's clarity before the clarity is even better with this release.  There were a limited amount of zoom levels in previous versions.  Now you can zoom in to have letters as tall as half an inch!  Of course, your book will seem longer if you do this, but if you can't see, the Kindle is now the best device for you!  You still cant change the Font to a different type face if you don't like the default font.
The next feature is my favorite one and it makes using my Kindle addicting!  That is, Facebook and Twitter posting!  To set up this feature, you just go to the Manage under Social Networks on the settings page.  It then launches the Kindles browser to let you enter your Facebook and Twitter credentials to like them. Once you have them linked, you can post passages on Facebook and Twitter by just highlighting a passage like you would to mark it.  Then hit the Alt key plus enter, type in a note to share and it will post it to these social networks.  It does not post the actual text of the passage, but it posts a link to the text and your note.   The image below is how it appears in your browser.
Lastly, you can view popular highlights of the book you are reading.  To see if there are any, just hit the menu key while reading and see if Popular Highlights is active.  Unfortunately, non my my books have any popular highlights just yet.  I am guessing that this depends on how many people post these to Facebook and Twitter but since it's a new feature, there haven't been that many posted yet.
Overall, this is a nice update that has me even more addicted to reading on my Kindle.  A great Kindle update! Now the only thing that would make me move to a new eReader is….a new Kindle…..or that blasted Android app!
What I liked: A good update!  Makes the Kindle more addicting and easier to use!
What needs improvement: Would like to see Ping.fm or some other social networks other than just Facebook and Twitter.