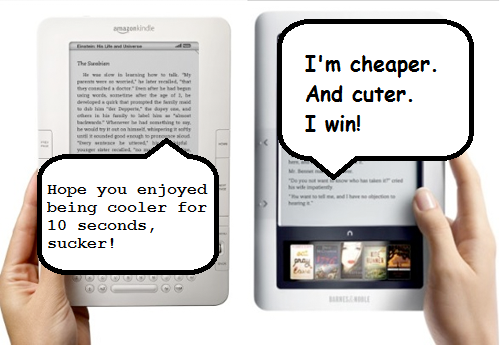 And the eBook Price Wars of 2010 have begun! The opening shots were fired this morning by Barnes and Noble, who announced not only the rumored "Nook lite", a WiFi-only nook for $149.99, but they also slashed the price of the nook to $199! The ink was barely dry on the various "Amazon should drop the price of the Kindle" articles before Amazon did, in fact, drop the price of the Kindle to $189. Yes, Amazon slashed the Kindle price to just below B&N's nook pricing. Now that's harsh.
This has some serious implications for the ebook market. First of all, Sony needs to act fast to protect what little marketshare they have. The PRS-300, the small 5 inch reader, should really drop to $99, and the rest of the lineup should take similar $50-$75 price drops. Sony isn't known as a high-end market leader in the ebook world, and ebook hardware has become less important than content, where Sony falls terribly flat. Ironically, Sony was first to market with a mainstream ebook reader, but their failure to build significant content hurt their overall traction, and unless they make serious changes it's looking like they're going to be a distant third.
Then there's Borders. Oh, Borders….you have an uncanny ability to pick the worst times to enter certain markets. The Kobo Reader is just hitting the USA at $149.99, the same price as the nook lite, but the Kobo device has no WiFi or bookstore access on-device. It's unfortunate, as the reviews have been good overall, but it really appears to be the lesser value when compared to the nook or nook lite. A lower price would give it some shot, but with Kobo being a relative startup and Borders being cash-poor there may not be margin to spare.
And finally, I think we're going to see many companies disappear from the ebook world. Coincidentally Teleread had a post today about Foxit's Europe division going bankrupt, and it sounds like the whole company may be next. Meanwhile there is a huge glut of readers that seem to have hovered around the $250 price point, and another, cheaper glut around $125-150. Suddenly the dynamics of pricing have changed. The new "high-end" for an ebook reader is no longer $260, and in order to differentiate these companies need to find a way to make do with much improved hardware or software offerings. It's going to get tight, and we'll no doubt see more vaporware or quickly disappearing devices as the year goes on.
In light of these price drops, it does make recommending an ebook reader more interesting. The nook lite is a great deal if someone doesn't have any need for 3G service, but if you want 3G I personally think the Kindle remains superior. Amazon does a better job of leveraging 3G for more than just bookstore access, plus their store still offers slightly better prices where they can. All three are compelling options at an impressive price, however.
Rather than clutter up the post with press releases, you can check out the Barnes and Noble press release here, and Amazon's retaliatory price drop release here.
Did these price drops change your mind or push you to ordering an ebook reader? Share your thoughts below!