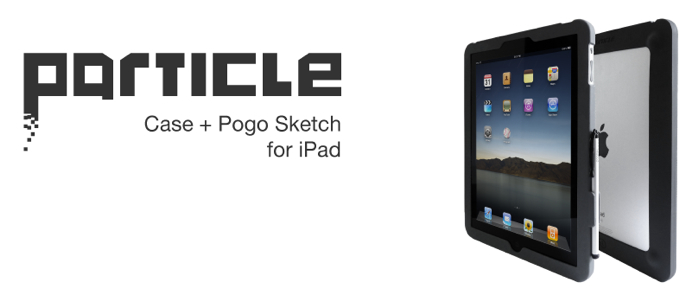 I love using my fingers as my stylus and mouse on the iPad. At times, in fact, I find myself trying to tap the screen of my MacBook Pro or iMac only to realize that they aren't touchscreens… yet. At the same time, there are some times when I want to use a stylus. For example, if I want to sign something a stylus comes in handy. Similarly, if, for some reason, I want to take handwritten notes instead of typing a finger really doesn't do the trick. That's where something like the Pogo Sketch stylus that I recently bought comes in. It works just great.
Unfortunately carrying a stylus poses a new problem… where do you keep it so it won't get lost. That's the idea behind Ten One's newest product… the Particle Case. According to the company…
Particle means protection, but it comes with a bonus.

Particle gives you everything you need to enjoy your iPad on the go.
Ten One Designs describes the case in this way…
The first of its kind, for many reasons. While remaining lightweight and agile, the particle case protects your iPad where it needs it most – at the edges. Integrated rubber feet provide traction and stability for tabletop use, while the stylus clip keeps the included Pogo Sketch close at hand.

It features…
Shock-absorbing material for full protection of your iPad

Built-in Pogo Sketch stylus provides natural note taking and drawing

Stability enhanced design means your iPad always sits flat without any wobble

Open-back design keeps your iPad running cooler, even while playing video

Extremely light-weight and portable
This is one product that has really caught my eye. I'm hoping to have one for review here on the site soon.
The new Ten One Designs Particle case is available directly from the Ten One Designs website for $34.95.
Ten One Design Unveils Its First iPad Case — Particle

New iPad case combines sleek form and shock-absorbing protection with a unique added bonus – the Pogo Sketch capacitive touch screen stylus

Montclair, NJ (June 22, 2010) – Ten One Design, the innovative creators of the Pogo Sketch capacitive touch-screen stylus for the iPhone, iPod touch, MacBook and now iPad, has announced the availability of its newest creation for the iPad — Particle.

What makes it so extraordinary? This lightweight yet durable iPad case comes complete with its very own Pogo Sketch, which allows for greater accuracy, efficiency and precision when taking notes or sketching on your capacitive touch screen device. The handy integrated side clip keeps the Pogo Sketch close at hand and securely in place.

The Particle's unique open-air backing keeps the iPad cool during extended use, and the integrated shock-absorbing rubberized feet keep the device wobble-free and off flat surfaces. Plus, the rubber material provides traction for ultimate stability and control. For added convenience, all ports for the iPad are fully accessible.

The Particle, bundled with the silver Pogo Sketch (a $15 value) is available at www.TenOneDesign.com for just $34.95.

To request more information on Ten One Design's line of mobile accessories, including images, local retailers, or product samples, contact PR representative Jenny Coleman at (305) 576-1171 x24 or jennycoleman@maxborgesagency.com.

# # #

Ten One Design, LLC, is a New York-based design firm established in 2007 to create innovative solutions for and enhance the quality of the ever-changing mobile lifestyle. By striving to improve the status quo and develop groundbreaking products like the Pogo Stylus, the Ten One Design brand is dedicated to being first and best. For more information about Ten One Design, please visit www.tenonedesign.com.