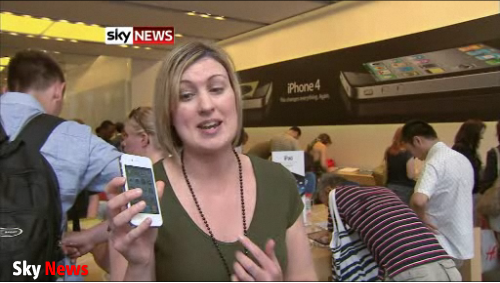 Everyone, including me, was surprised on June 15th when the iPhone 4 became available for pre-ordering, and the absence of the White version of the device.  First announced in two colors (black and white) at WWDC, Apple offered no explanation on the  15th only that the White version wasn't available but the Black was.
Sky News is now showing a video showcasing the iPhone 4′s launch in London England.  During the video you can clearly make out two lucky souls holding White iPhone 4s.
Apple recently made an official statement regarding the White version saying that it presented some challenges to produce and therefore would be delayed until late August.
So how did these people score White iPhones 4s more than a month before they are supposed to be out?
Unfortunately the reporter speaking to the lucky ducks who scored themselves White iPhone 4s wasn't aware of the lack of availability of the color and didn't ask either person about how they got them.
You can watch the whole video here on the Sky News Web Site.
Have you seen any white iPhone 4s out and about?
Leave us a comment below.
Via Mashable.