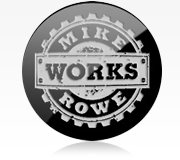 Image courtesy of Motorola
If you're a fan of the Dirty Jobs, then you know Mike Rows gets into some of the most brutal and nasty jobs that anyone has to endure. Motorola decided Mike would be the perfect candidate to test out both of their new super rugged mil-spec phones the Motorola Brute and i1. Both phones operate on the iDEN (800/900 MHz) network and meet Mil Standard 810F. Motorola gave some of these phones to Mike Rowe and told him to find the best people to test out these rugged phones and see if they could actually hold up to the Dirtiest Jobs.
Image courtesy of Motorola
The i1 is actually a pretty nice looking Android touchscreen phone. Getting past the fact that it is only running Android 1.5, the specs actually aren't too shabby and seem comparable to the specs and of the Motorola Cliq and Cliq XT. The big difference of course is the addition of Push-to-Talk and its built-in body armor that keep the phone protected. I have to wonder is if the "usual" Nextel customer is ready for an Android touchscreen smartphone? Most Nextel users are primarily in the construction business or something similar where they are put out in the field and used to their small flip phones. A smartphone could prove to be of great value with the ability to send pictures, read emails, and go online. I think it will take some time to get used to, but  once you have it all at your fingertips it will be hard to live without. Hopefully Motorola shows this device some love and updates Android to 2.X in the near future.
Image courtesy of Motorola
The Brute conforms to your more traditional Nextel flip phone, but adds the same mil spec approval and the some rubber armor to keep it protected. The phone has a color screen, 2MP camera, Stereo Bluetooth, GPS and a few other non smartphone type features. This looks to me like a logical upgrade for anyone in the market for a new flip or as a replacement for when you drop your phone in the ditch or down the drain.
*Mil Spec
In case you were wondering Mil- Spec is not just some fancy words thrown together to make things sound super cool and tough. It's actually a rigorous group of tests performed to a standard that meets DOD approval for specific products. Some of the tests include wind, rain, dust, temp, altitude, sand, shock and vibration are just a few that they do but you get the idea.
The phones are designed to take a beating and continue doing their job under the worst or dirtiest condition you or Mike Rowe can throw at them. I think the i1 is pretty cool for anyone who needs a smartphone that can stand up to harsh conditions. Most people I know could actually use a phone that can stand up to harsh conditions regardless of what they do for a job. Nextel has been a well know branding among those who get dirty and work outdoors, I'm sure phones of the rugged nature are always welcome and so far according to Mike and his friends, these Moto phones fit the bill. Check out more specs and features on Moto's site.
Via Motorola
Here's the rest of the Videos for your enjoyment, most of them have the standard Mike Rowe humor and are pretty funny to watch.
Dirty Talk: What happens in Vegas
Dirty Talk: Garbage man or machine?
Dirty Talk: Will work for Concrete