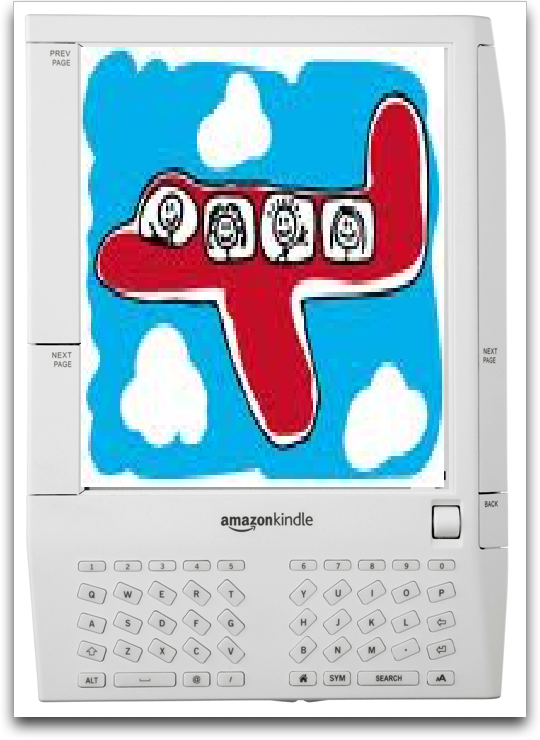 Amazon is going to take over the world someday…one airport at a time. In addition to online and your local Target, you can now pick up a Kindle at select airports! Now you won't be stuck browsing mass market paperbacks and old "People" magazines if your flight gets delayed!
This has the potential to be incredibly disruptive in the ebook market. Imagine being on the fence about a Kindle, but you find one being sold right before a long flight. All it takes is five minutes with the wireless on and you're stocked for a month of reading. No computer, no activation, just buy and use. The airport is the perfect place to sell Kindles, especially at their new lower price. It will be interesting to see if B&N attempts to strike a similar deal at airports. Sony could try, but with their only wireless device being jaw-droppingly expensive, it's less of an attractive option.
Check out the full press release, and then share in the comments if you'd impulse buy electronics while traveling!
Via Teleread
HMSHost Lands Exclusive Agreement to Sell Amazon Kindle in Airports

BETHESDA, Md. – (BUSINESS WIRE) – Starting June 28, travelers will find the Amazon Kindle for sale in HMSHost branded stores-Simply Books and Authors Bookstores-at airports across the country. HMSHost, a world leader in travel shopping and dining, announced today its agreement with Amazon to be the first and only travel retailer of the best selling electronic innovation that is changing the way people buy and read books.

Amazon Kindle is the 3G wireless portable reader that allows consumers to think of a book and then be able to read it in 60 seconds from any location-or in the case of a traveler—any destination. Easy to read even in bright sunlight, the 10.2 ounce Kindle is light enough for one-handed reading. Kindle has no monthly fees or annual contracts and since its release, has been the #1 best selling product across the million of items sold on Amazon.

"We are very excited to partner with Amazon to be the first airport retailer to offer the highly acclaimed Kindle to people on the go, and to have it available in our bookstores prior to the busy Fourth of July holiday," said Joan Ryzner, Senior Vice President, HMSHost Retail. "The Kindle's readable 'easy on the eyes' screen and vast selection of titles are sure to delight travelers planning short or long trips."

Kindles sold through HMSHost's stores are pre-charged and ready to read.

Kindle's Whispersync technology automatically syncs your library and last page read with Blackberry, iPhone, iPod touch, iPad, PC, Mac, and soon, Android.

Ryzner added, "We're making the day better for travelers who will find it convenient to download a book before boarding a flight, on the flight prior to take-off, when making a connection, or even on the way home from a trip."

Travelers may purchase Kindle at HMSHost's Simply Books and Authors Bookstore locations in the following airports across the U.S.

Atlanta Hartsfield Jackson
John Wayne (Orange County)
Charlotte Douglas International
Salt Lake City
Dallas Ft. Worth
San Diego International
George Bush Houston Intercontinental
Mineta San Jose International
Miami International
Tampa International
Minneapolis-St. Paul
About HMSHost

HMSHost is a world leader in creating shopping and dining for travel venues. HMSHost operates in more than 100 airports around the globe, including the 20 busiest airports in North America. The Company has annual sales in excess of $2.5 billion and employs more than 34,000 sales associates worldwide. HMSHost is a part of Autogrill Group, the world's leading provider of food & beverage and retail services for people on the move. With sales of over €5.7 billion in 2009, the Group operates in 43 countries and employs some 70,000 people. It manages over 5,500 stores in more than 1,200 locations worldwide. Visit www.HMSHost.com for more information and become a Fan of HMSHost on Facebook at HMSHost Making the Traveler's Day Better.

About Amazon Kindle

Learn more about Kindle at www.amazon.com/kindle