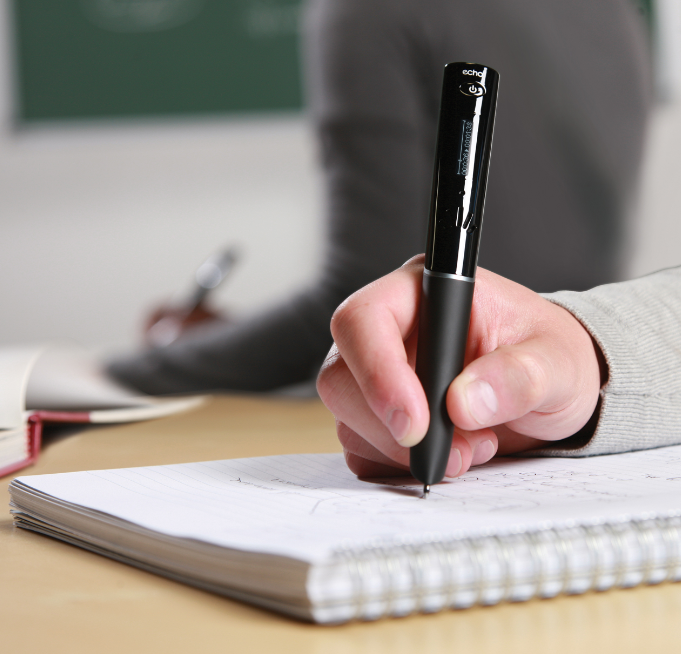 Some two years ago I bought a 2GB Livescribe Pulse Smartpen. When used with Livescribe's special paper the Pulse recorded both pen strokes and audio which were then later transferred to my computer. From there I could view the notes, listen to the recorded audio or, almost magically, tap anywhere in my text and hear the audio connected to the very moment when I had written that particular note.
Having made the move away from using Windows-based Tablet PCs to using computers running Mac OSX exclusively I had missed the ability to use MS OneNote to take electronic notes. The Pulse served that purpose for me and went one… or a dozen… better. It was light, worked for hours at a time and stayed cool, something my Tablet PCs never did. I even took to leaving the Livescribe notebook I used at work since, so long as I brought the Pulse home with me, I still had all my day's notes. It was an impressive piece of technology and I was happy to be one of the early adopters.
Livescribe has just released an updated pen, the Echo, as well as updates to both the pen and desktop software. The company was kind enough to send me one of the new Echos last week as well as spend some time on the phone for an interview. Lat's take a look at what they have to share.
Livescribe sees its mission as working to-
Improve the way people capture, access and share information with pen & paper.
Founded in 2007, Livescribe has
developed a breakthrough low-cost mobile computing platform that enhances learning, communication, entertainment, personal productivity, and business productivity.
During the presentation last week the company shared a few salient statistics with me. They reflect the fact that the technology is quickly gaining traction. Among those statistics-
Livescribe's Business Doubled Year Over Year in 2009

They have sold 400,000 smartpens

The pen is now available in 36 countries

There are currently over 60 applications now available in Beta Application Store

There have been over 500,000 pencasts created with 2.5 million pencast views. Pencasts are being used in a growing number of areas such as government and education.
Perhaps the most significant statistic was that when asked, "Has a smartpen changed your life?" 72% of those surveyed answered in the affirmative. People who love a new technology and find it transformative in daily life are the best advertisement for any new product and Livescribe has almost 300,000 walking spokespeople around the world. I'm one of them.
Since its introduction Livescribe has worked to make the Smartpen not just a gadget but a platform. As a result they think of Livescribe as a four-pronged computing platform that consists of the Smartpen, the Livescribe Desktop, Pencasts (shared text plus audio sessions) and the new Livescribe Applications that were released in Beta last winter. Each of the four areas works in tandem with the others to make help people be more efficient than ever.
Before we look at the new Echo and the software updates let me give just one "real-world" example of how I use my Smartpen. As a rabbi I have the privilege of officiating at numerous weddings each year. I'll often meet with couples two, three, four or more times in the months leading up to the wedding and there will often be many weeks between meetings. Often couples are nervous when we meet so they speak rather quickly. I write rather slowly. That's not a good combination. By using my Smartpen (with permission of course) I'm able to take fewer notes while still having access to everything they might share with me. The result is that I am able to pay MORE attention to them while assured I won't miss anything.
So, for example, if I forget whether or not Carly has anyone doing a reading at her wedding (yes, I am going to have the privilege of officiating) I can simply look back at my notes in Livescribe to be reminded that their friend Jess is reading something.
Livescribe's system is an amazing productivity tool for me and is made all the better by the next generation of hardware and software. So lets take a look.
The Echo Smartpen
With the launch of the Echo Livescribe is going after the business market more than ever. There is good reason for this since, contrary to what many of us would expect, as much as the Smartpen has been embraced in the education world it is more likely to be seen in a business environment.
Features-
Sleek, ergonomic design

Rubberized, smaller grip

4GB, 8GB storage capacity

Standard Micro USB

Standard size 3.5mm audio jack

Anti-roll body design

Interactive Getting Started Guide

Designed for cap (2 included)

Fully compatible with Livescribe platform
Physical Changes-
The new smartpen hardware looks great and feels even better in the hand. The new Echo has a soft-touch material in the lower half (where you hold it) and tapers off as you approach the tip. It is also a bit wider at the top. The two combine to make the pen far more comfortable to hold and use than its predecessor the Pulse.
The updates also help the Smartpen lose a bit of the cigar-like appearance which, while it didn't stop me (or any of the other 399,999 who purchased one) from using it, left something to be desired.
The bottom now has a flat area that will prevent the Echo from rolling off the table whenever it is placed down. This is something that I, and I expect 399,999 others encountered time and again while using the Pulse. Not a deal-breaker for the Pulse by any measure but a frequent annoyance that has not been addressed.
The taper, soft-touch material and black color of the Echo add up to a Smartpen that looks less like a Smartpen from a distance and looks more befitting a business professional.
Unlike the Pulse which was made of metal, the Echo is all plastic. Unlike Apple's decision to make the 2nd generation iPhone from plastic which I never lived, this is one time when I am glad a company made the move from metal to plastic. It still feels substantial and is easier to hold.
Here is a comparison of the two.
Universal Connectors-
Livescribe made another significant change when designing the Echo. They moved to universal standards for the pen's connectivity. The Pulse has a proprietary charge/sync connection. That's why every Pulse pen ships with a charging dock. The Echo, on the other hand, uses a standard micro-USB. As a result it simply ships with a USB cable. (And while a cradle is a possible accessory in the future there are none offered currently for the Echo.)
In addition, the Pulse has a proprietary headphone connector. As such, it ships with its own headset that can be used to listen to recordings as well as capture and playback 360 degree sound. (It's pretty wild!) Only that headset can be used with the Pulse and the headset can only be used with the pen. Livescribe discovered that people were rarely using the surround-sound feature and were far more likely to use headphones simply to listen to a recording privately. For the Echo they went with a standard 3.5mm jack and did not include headphones. (They assume most people purchasing an Echo already have a favorite pair.) If you do want the added functionality of 3-D recording an accessory is available.
Unlike the Pulse the Echo does not ship with a case either. It does, however ship with two caps for the pen. This is something business users have been clamoring for- the ability to put the pen in your pocket without fear of it leaking ink. Again, a case is available but it is an added accessory.
The result is that the Echo ships with far fewer accessories than did the Pulse. It is a trend we increasingly see as products move from Gen 1 to Gen 2. (If you recall the original iPhone shipped with a dock while none have since.) In the trade-off between "proprietary with accessories" and "universal without accessories" however I think Livescribe made the right choice.
Livescribe will be rolling out a series of new accessories, new desktop and smartpen software and new add-on applications.
The new accessories include 3-D Recording earbuds for the Echo (more on that in a bit) for $29.95, a new Universal Leather case for $24.95 since the old case will not fit and no case is included, a Deluxe Carry Case for $24.95 and a new Folio that holds both the pen and a notebook for $24.95.
And while they are rolling out the Echo today, Livescribe will still be selling their Pulse along side it. As a result, the new pricing model has a 2GB Pulse at $129.95, a 4GB Echo at $169.95 and an 8GB Echo that can record up to 800 hours of audio for $199.95.
Software Enhancements-
It isn't just the hardware that's getting updated today, however. There are some significant software changes that are available now… and more planned for the fall. Many of these updates will be available for both the Pulse and the Echo but some of the more advanced features will require users to have the new pen.
Smartpen Software Enhancements-
Among the key enhancements with regard to the software on the Smartpen are…
Paper Replay Password which lets you protect your recorded paper replay sessions in the case of a lost smartpen. As the pens become more commonplace in business this becomes a must. You can now use a 4 digit number to protect the smartpen and if you forget your password you simply reset it through your registered copy of the Livescribe Desktop software.

Launch Line will make launching apps much faster. Instead of having to scroll through the pen's display now you will simply draw a short line ("there and back"), write the name of an application on top of it (e.g., "Blackjack"), double-tap to select or wait a moment and the app is launched. I haven't gotten all that involved in using apps on my Smartpen but if you use a number of apps this will be a huge convenience.

Custom Pen Name let you give your Smartpen a specific name that is briefly shown when you turn on the smartpen. If more than one person in a room is using a Smartpen this can be a huge help! (I'll be this is one of the more popular new features at Livescribe's headquarters where I assume everyone has one of the pens.
Livescribe Desktop Updates-
The Livescribe desktop is also getting an update. It too adds some useful features.
Custom notebooks might just as well be called smart-notebooks since they can automatically collect all notes on a given topic in one place rather than being locked into the specific notebook in which it was created. For me this feature will be great since I NEVER carry a large notebook with me. Instead, I have a notebook in my work study, one in my car and one at home. Thus a wide range of topics can find their way into any and all of my notebooks. Smartnotebooks will let recollect all notes on a similar topic in one place.

Import/export pencasts makes it easier than ever to share pencasts with others. While viewing a note you simply click the "Share" button, select "Using Email" and then select if you want to share the full pencast, or just the audio or text. This is an important addition for people using the system in a business environment is that you can now export and share a pencast directly from the Livescribe desktop and behind a firewall.
iOS App- The upcoming iPhone and iPad app is among the things I am most excited about is the upcoming iPhone and iPad app.
It will enable you to view and download pencasts from your Livescribe Online account as well as share pencasts with others. It will also have native, high-resolution iPad support!
The application will be called Pencast Player from Livescribe and it will be a free download when it is released next month.
I was curious as to what kind of file it would be when it plays back on iPhone and was told that the app will use a proprietary .pencast file or an AFD file depending on whether the file is coming from Livescribe Desktop (by syncing the phone to the computer) or online through the customer's MyLivescribe account.
As noted above, August availability is planned.
There are also enhancements that are planned for release some time this fall. Among the more interesting ones are…
Paper Tablet will allow real-time communication from the smartpen and paper to personal computers. This will enable real-time communication from smartpen and paper to computer (hence the reason the direct USB connection between the pen and the computer was needed for the Echo.
Uses include drawing and graphic design (e.g., Wacom tablet), annotating MS Office documents using review and inking tools, enhancing presentations with interactive markup and notation and "Smartpen-as-mouse" navigation and control.
Smartpen Connect will make it possible to send notes, audio, or a pencast PDF directly from paper and pen. Among the services that will integrate with Connect are Email, Facebook, Google Docs, Salesforce.com and while not mentioned specifically during my briefing, Evernote is listed in the literature as well. Yeah!
Finally, Pencast PDF will make it possible to create integrated ink and audio playback in a PDF that can then be shared universally. It will enable full screen viewing, zoom, rotate, bookmarks, printing and even let you save audio as MP3 file. A Pencast PDF will be accessible to anyone with Adobe Acrobat Reader 9.3 or above.
Conclusion-
The Livescribe Pulse pen changed the way I work. It made me stop longing for the days when I used a TabletPC because, thanks to it, I had regained much of the same functionality. The Echo is a terrific update to an already great product. The choice to go with universal connectivity is fantastic since it means I can charge my pen on the go and plug any headphones in to listen to a recording. The design enhancements such as a flat bottom that won't roll and a tapered point and soft touch grip to make holding and using the pen more comfortable reflect the company's commitment to making improvements that customers actually want and need. I always thought the Pulse pen was great but after using the Echo the Pulse is relegated as merely good to the new pen's "great". I do, however, regret that the company followed the new model of skimping on the included accessories that come with 2nd and 3rd generation products but that is a minor gripe and the way things are today. The hardware of the Echo is much improved in my experience over the last week.
The software updates for both the pen and the desktop are welcome additions to the system and reflect the fact that the company is paying attention to who is using their product and how they are using it. The pen updates better position the device for use in business and the desktop features move Livescribe from a useful gadget to a full-blown productivity platform. The updates that are coming this fall will take that even further.
I'm particularly excited about the iPad app but hope to see it move beyond merely allowing users to CONSUME what they have already created. (Imagine a Smartpen you can plug into your iPad or iPhone instead of a desktop using Connect for realtime writing and recording. And NO this WAS NOT EVEN HINTED AT during my briefing. It is just on my personal wishlist.)
Livescribe asked users in a survey "Has a smartpen changed your life?" For me there is no question… it has. And the updates will only make it better.
The Livescribe Echo (as well as other products) is available directly from the Livescribe website.
MSRP: $169.95 for 4GB;$199.95 for 8GB
What I Like: Uses universal connectors; more refined look and feel; easier to hold and use for long periods; won't roll off the table; a 2GB Pulse can now be purchased for as little as $129.95
What Needs Improvement: Fewer accessories now bundled with it