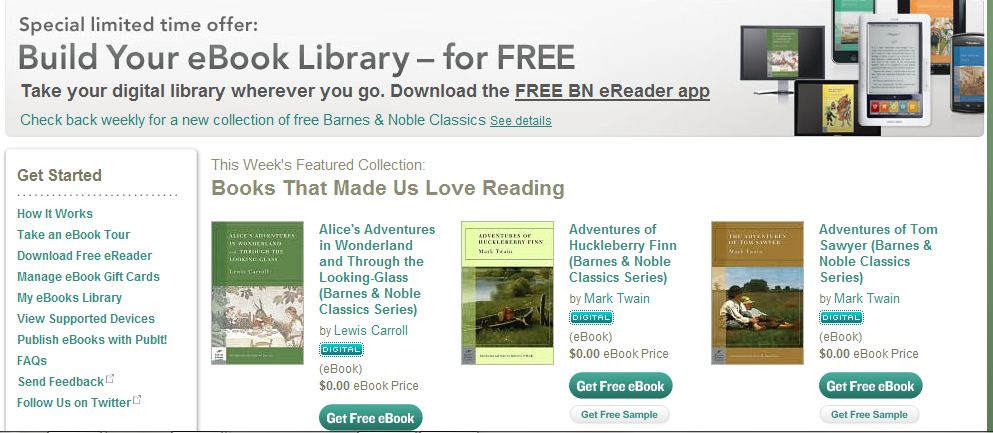 Barnes and Noble has always bragged about their 1 million+ books in their ebook library, but that number is heavily inflated by public domain free novels. Now B&N is heading back to the classic novels to promote nook books yet again. This time they're offering "themed collections of classic ebooks" all summer long. It's a neat idea to group classic novels together for downloads, but if you miss out this isn't the end of the world.
All of the novels listed in the press release as examples are what's known as public domain. This means the copyrights have expired, and numerous sites, from B&N to Project Gutenberg, offer them for free, 365 days a year. So while B&N is nicely packaging everything for download for you, it's not as exciting a promotion as some of the other ones B&N has offered. Their "show your nook reader, get a free ebook" promotion offered books that normally cost money for free; this new promotion just packages up an already free deal in a new package.
Check out the full press release below!
Barnes & Noble Builds Book Lovers' Digital Libraries,

Offers Weekly Series of Free Classic eBooks

Themed Collections of Timeless Classics Offered Each Week for Free Download

High-Quality Digital Editions with Special Features Can Be Enjoyed on NOOK™ and a Variety of Popular Devices

New York, New York – July 16, 2010 – Barnes & Noble, Inc. (NYSE: BKS), the world's largest bookseller, today announced a new promotion offering book lovers a free and easy way to enjoy timeless classics and build their personal BN digital library. With the Barnes & Noble Classics promotion, customers will enjoy a free weekly slate of high-quality, special edition classic eBooks to enjoy on a variety of platforms, including NOOK eBook Readers, iPad®, PC and other mobile and computing devices using BN eReader software.

At no cost, customers will have the ability to amass a large digital library of enduring works of literature that can be taken and enjoyed anywhere they go. Each week for a limited time only during the summer, choose from approximately ten free eBooks, all available for immediate download at no cost. Barnes & Noble kicks off the promotion today with "Books That Made Us Love Reading," including longtime favorites such as Alice's Adventures in Wonderland, Adventures of Huckleberry Finn, Adventures of Tom Sawyer, Grimm's Fairy Tales, Little Women, Peter Pan, Secret Garden, Tarzan of the Apes, The Wonderful Wizard of Oz, Treasure Island, and Wind in the Willows. The theme and selection of free titles will change each Friday. Upcoming weekly themes include romance, fantasy, adventure, and books that inspired movies.

The free eBooks offered through the Barnes & Noble Classics promotion, along with any eBooks from the BN eBookstore, can be enjoyed on a wide range of devices, including NOOK eBook Readers, and a variety of other computing and mobile devices compatible with the free BN eReader software such as iPad, iPhone®, iPod touch®, BlackBerry® and HTC HD2™ smartphones, PC and Mac®. An Android version is slated to launch shortly, along with an updated iPhone app. For more information on free BN eReader software and apps, please visit www.bn.com/ebooks/download-reader.asp.

"With this exciting offer of dozens of free, high-quality Barnes & Noble Classics eBook titles beginning today and in the coming weeks, we're continuing to give our customers new ways to experience and enjoy eReading," said Sasha Norkin, Vice President, Acquisition Marketing for Barnes & Noble.com. "We believe our customers will appreciate the ability to add many of our Barnes & Noble Classics to their growing personal digital libraries at no cost, and those new to eReading can try out one of their childhood favorites on the mobile or computing device of their choice, using our free BN eReader software."

To enjoy this promotion, customers can visit www.bn.com/freelibrary to add any or all of the free classic eBooks offered in each week's selection. The Barnes & Noble Classics Series, available in both print and digital format, offers high-quality special editions at affordable prices, including a variety of carefully crafted extras. Barnes & Noble Classics eBooks offer proofed and well-formatted digital editions with introductions commissioned from today's top writers and scholars, as well as author biographies, chronologies of contemporary historical, biographical, and cultural events, and footnotes and endnotes. Barnes & Noble Classics eBooks also include selective discussions of films and other content inspired by various works, comments by other famous authors, study questions to challenge the reader's viewpoints and expectations, and bibliographies for further reading.

A BN.com account is required to enjoy these and any content offered through the BN eBookstore. Barnes & Noble Classics Series are among the more than one million digital titles that the company offers in its expansive eBookstore which also includes new releases, bestsellers, magazines, newspapers and more, all available for immediate download and reading in seconds.

The Barnes & Noble Digital Library Advantage

Barnes & Noble's Lifetime Library helps ensure that Barnes & Noble customers will always be able to access their digital libraries on a variety of devices as well as on BN.com. In addition, Barnes & Noble's use of ePub format and Adobe technology allows customers to read all of their digital content across a growing universe of devices.

About NOOK™ from Barnes & Noble

The most full-featured dedicated eBook Readers on the market, Barnes & Noble's NOOK family marries innovative technology and sleek minimalist design with access to the Barnes & Noble eBookstore of more than one million eBooks, newspapers and magazines. NOOK's color touch screen for navigation along with a best-in-class E Ink display offer an immersive, enjoyable eReading experience. NOOK 3G offers both free 3G wireless and Wi-Fi connectivity and NOOK Wi-Fi features Wi-Fi connectivity. Barnes & Noble is the only company to offer digital lending for a wide selection of eBooks through its LendMe™ technology available on all NOOK devices. In Barnes & Noble stores, NOOK 3G and NOOK Wi-Fi customers can access free Wi-Fi connectivity, enjoy the beta Read In Store feature to browse many complete eBooks for free, and the More In Store program, which offers free, exclusive content and special promotions. Both NOOK models offer consumers great value with NOOK 3G available for $199 in Barnes & Noble stores and www.nook.com, and NOOK Wi-Fi online for $149. NOOK 3G is also available at Best Buy stores and www.bestbuy.com and NOOK Wi-Fi can be ordered at www.bestbuy.com.

To learn more and experience NOOK eBook Readers, visit www.nook.com. Follow our eBooks and other updates on www.twitter.com/eBooksBN and www.facebook.com/NOOKBN for information on NOOK updates, new eBook releases, Free Friday eBooks and more.

ABOUT BARNES & NOBLE, INC.

Barnes & Noble, Inc. (NYSE: BKS), the world's largest bookseller and a Fortune 500 company, operates 720 bookstores in 50 states. Barnes & Noble College Booksellers, LLC, a wholly-owned subsidiary of Barnes & Noble, also operates 637 college bookstores serving nearly 4 million students and faculty members at colleges and universities across the United States. Barnes & Noble is the nation's top bookseller brand for the seventh year in a row, as determined by a combination of the brand's performance on familiarity, quality, and purchase intent; the top bookseller in quality for the second year in a row and the number two retailer in trust, according to the EquiTrend® Brand Study by Harris Interactive®. Barnes & Noble conducts its online business through Barnes & Noble.com (www.bn.com), one of the Web's largest e-commerce sites, which also features more than one million titles in its eBookstore (www.bn.com/ebooks). Barnes & Noble customers can buy and read eBooks on the widest range of platforms, including NOOKTM by Barnes & Noble, eBook Readers from partner companies, and hundreds of the most popular mobile and computing devices using free BN eReader software.

General information on Barnes & Noble, Inc. can be obtained via the Internet by visiting the company's corporate website: www.barnesandnobleinc.com.

NOOKTM is a trademark of Barnes & Noble, Inc.

Wi-Fi® is a registered trademark of the Wi-Fi Alliance.

Social Media Links:

Follow B&N on Twitter: www.bn.com/twitter

Become a fan of our Facebook Page: http://www.facebook.com/barnesandnoble

Subscribe to our channel: http://www.youtube.com/user/BNStudio