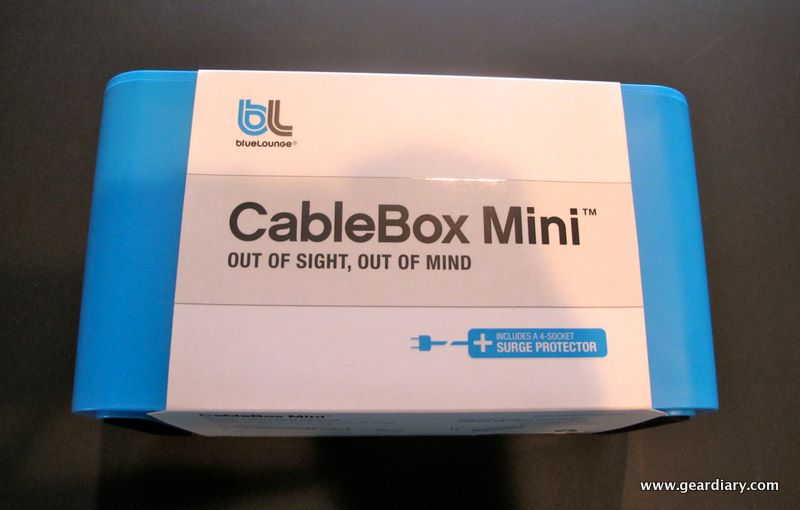 Bluelounge makes a variety of products that are sophisticated as much they are simple. Most of their items offer unique and interesting ways to organize the home or office. Just recently announced, their CableBox Mini, which is a successor to their popular CableBox, allows for multiple grounded electronic devices to be grouped together into a single power source.
Power strips are a dime a dozen and most home offices have at least one. While the generic power strip functions well it looks awful. If it can't be hidden away inside a cabinet or behind a work station its ugly form is often left exposed for all to see. Couple that with the dangers that exist when small children and or pets stumble across them and the power strip, while functioning well, might not be worth the risks that accompany it.
The CableBox Mini comes standard with a hidden power strip and power surge protectors tucked neatly inside its small rectangular shaped box. It's currently available in six different color variations. It's pretty small so if the items you plan in plugging in have larger plugs you might want to consider the larger CableBox.
The mini is small enough to fit under your desk or even right on top of it. Bluelouge offers up a ton of interesting possibilities for placing the CableBox Mini in your home or office.
Measuring in at 9.3 x 4.6 x 5.2 inches and made from a fire-retardant plastic it includes a UL listed 4 socket surge protector (U.S. only).
The bottom has rubber feet, so if you do decide to place it on a slippery surface it'll stay put. And Bluelounge also includes a bunch of ties so that you can neatly tuck and secure excess cords inside the box.
I placed the CableBox Mini under my oldest daughter's room.  She was already utilizing a small power strip to charge her iPod Touch and Nitendo DS as well as power her TV.  Also, with two cats, one dog and three kids around our home it's vital that we keep as many cables hidden away as we can. The vibrant color of the mini ensures that we're not only safeguarding our home but doing it with something that doesn't look actually looks good too.
Before:
After:
Quite a difference. Not only does the CableBox Mini look a million times better but I rest easier knowing the rat's nest of cords is safely tucked away inside.
We have a few surge protector covers for our home that we picked up at a local baby store. Bottom line – they're ugly! And cheap too. They're made from inexpensive plastic and while they might do a good of keeping wires and plugs hidden they don't look nice while doing so. There's no need to sacrifice good looks for a product like this. The CableBox Mini offers the best of both worlds. Protection and functionality in a sleek-looking design that looks as good as it performs.
The CableBox Mini is a win/win.
You can learn more about the Bluelounge CableBox Mini by visiting the Bluelounge web site here.
M.S.R.P. - $29.95
What I like – Small, compact, fire-retardant, variety of color choices, durable.
What I don't like – Nothing.