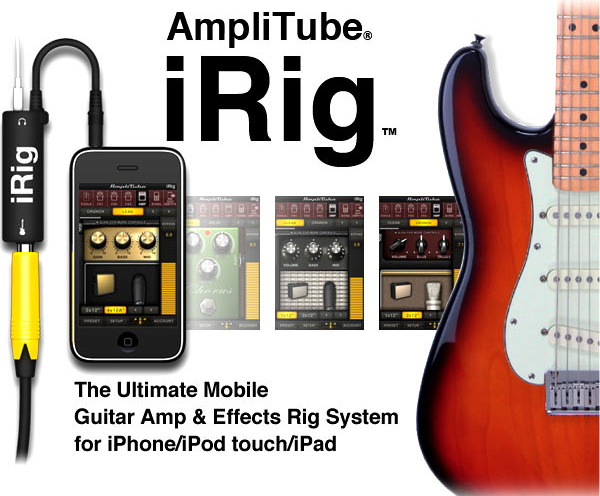 It seems that almost daily, I am finding new and exciting ways to use my iPhone or iPad to increase productivity or bring enjoyment into my life.  My love for the guitar has been expressed many times through my reviews and news releases and these devices are increasingly becoming more integrated in this infatuation of mine.  IK Media has just released a new product to combine your iDevice and electric guitar to create a complete mobile jam rig.  The developers were gracious enough to let me take a look at this new product.
The iRig is a small interface device that allows users to plug an electric guitar into their iPhone or iPad and then use the Amplitube application to create great guitar effects.  The iRig needs no batteries or charging so it is truly a mobile gadget.  Once the guitar is plugged in, a standard headphone jack plugs into the iDevice and then headphones connect to the iRig.  The magic then happens from the application as it controls all of the sounds and effects.  The iRig device will basically work with any line-in application or device.  This includes other tuning or recording apps.
Amplitube for iPhone/Touch is a complete and gorgeous application.  Everything you need for a jam session is included.  Here are the features.
Real time guitar and bass mobile multiFX app
Full rig made by 4 simultaneous stompboxes + amp + cabinet + mic
11 Stomps, 5 Amps, 5 Cabinets, 2 Mics available
Import and play with songs or backing tracks with real time effects
36 presets can be saved/recalled on the fly
Includes tuner/metronome
Free and Full versions available
Free version expandable with a-la-carte downloadable gear
Same low-latency as Mac/PC systems
The free Amplitube app includes 3 stomp boxes, 1 cab+amp and 2 microphones.  Each of the other stomp boxes are available as "in app" purchases for $2.99.  Cabs cost $4.99 each.  For the $2.99 LE version of the app, 5 stomp boxes will be included instead of 3.  While getting into the system is inexpensive, be prepared to shell out some cash if you want to receive all of the available sound possibilities.  It is worth noting that the entire setup is cheaper than buying a true multi-effects pedal though.
Amplitube for the iPad has the same functionality and pricing as the iPhone version, but a completely different design.  While not as mobile as the iPhone version, Amplitube for iPad is beautiful and the added screen real estate makes adjusting levels and changing stomp boxes simple and intuitive. After using both it can easily state that I prefer the iPad version when I am in my guitar room/man cave. On the go, however, the iPhone app wins out.
On top of the effects, there are some great features in the Amplitube apps.  The preset tab will allow you to set 12 different combinations that can each be activated with a single tap for easy switching during songs.  A small tuner window is great for quickly getting your guitar in tune. (I love this feature).  And under tools tab you will find a larger tuner, a programmable metronome and audio demos to show some of the sound possibilities.
Amplitube also includes the ability to play along with songs.  (Despite the iPod-looking icon, this is not done through your iTunes music loaded on the device.)  Up to 20 songs may be added to the application.  When adding a song, a web address is be provided and if the computer containing the Mp3 is connected to the same wifi connection a browser will allow the song to be wirelessly transferred.  Although adding songs from the device would be simpler, the wireless transfer is fast and works fine.  Once loaded, you can simply cue up the song you want and play along.  Personally I prefer to just randomly play along with backing tracks so this feature is awesome.
The AmpliTube iRig and application are pretty amazing. They easily turn your iPhone, iPod Touch or iPad into an arsenal of guitar and bass effects.  The included tools and customization features make the set up powerful… and this is true for any level of experience or talent.  And as you play you can listen through headphones, plug in to powered speakers or connect to a recording device and play away.  The small size of the setup will keep you mobile so you can use it when visiting with friends or while traveling.  You can check out the iRig here and the iPhone/Touch app here iPad app here in the iTunes App Store.
MSRP: iRig= $39.99;  AmpliTube application= Free with in-app purchases for $2.99 per stomp box and $4.99 per cab+amp.
What I like: Small hardware that works great coupled with beautiful and feature filled apps;  My guitar sounds great through the set up.
What could be improved: The in-app purchases can get costly;  I would like to see some packages that save some cash;  I would also love a direct recording feature.