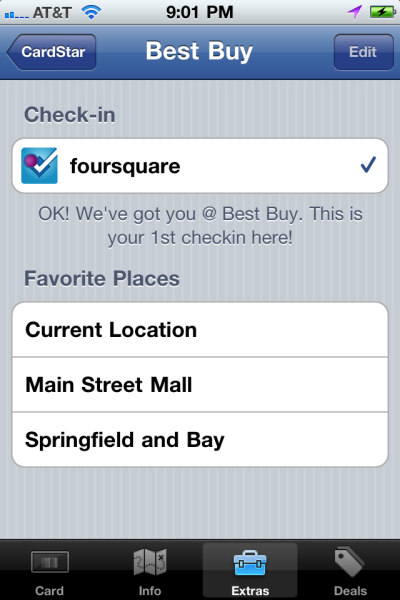 Cardstar is a popular application that Gear Diary has covered before. Simply put, the application lets you ditch the wallet-busting customer loyalty cards by letting put them all right on your smartphone.   Chances are that Cardstar has you covered whether it's grocery, gas, pet supplies or anything in between.    I've personally been using the application on iPhone, BlackBerry and Android phone and it's kept me from rummaging through my wallet many times.
A few things seemed to be missing, though.  Like a good way to backup and restore your loyalty card information any time you changed or upgraded your phone.   And wouldn't it be great to be able to actually integrate Cardstar with a location-based check in service like Foursquare?    While you're taking advantage of a great deal at your local retailer, go ahead and let others know.   Well, today Cardstar now features both of those additions.   But that's not all.   Keep reading to see some more features Cardstar users can look forward to using.
As the screen shot above shows, iPhone users will now be able to easily backup and restore loyalty card information.  This is great news for anyone who's ever had to re-enter all of the information after changing or replacing phones.  Privacy is something taken very seriously at Cardstar, so you will also be happy to know that your personal information is never stored.   The loyalty card data is given an anonymous number identification that Cardstar associates with each user.   The loyalty card data is then stored in the 'cloud' making it easier for you to manage your loyalty programs.
The biggest news for users is the new integration with Foursquare, allowing users to check-in at the point of sale.    What's exciting about this move is that it opens the door for Cardstar to be used with location-based social media, giving users and merchants real-time information about where users are making purchases.   It's voluntary, so you can turn on/off the Foursquare feature at any time.    This move also opens the door for Cardstar to implement additional services in the future.  Foursquare is only the beginning!
In the not too distant future, iPad owners will get even more features coming from the upcoming Cardstar Connect which will turn your iPad into a digital "Sunday Circular" and give you immediate access to digital coupons directly within the Cardstar application.   Not only will Cardstar be slimming your wallet from carrying additional cards, it will also help you add more money back into your budget with this soon to be released update!
Here's the official press release announcing Cardstar's new features:
NEWS FACTS
CardStar, the leader in mobile loyalty card applications, today announced the integration of Foursquare in its latest Apple iOS 4-compatible iPhone app release.
By converging rewards cards and Foursquare within a single application, CardStar makes it easy for users to check in when scanning their cards and deepens customer loyalty by enabling merchants to directly engage with customers through their mobile devices.
CardStar version 3.0 features a number of upgrades to make life even easier for users:

Backup & Sync – To eliminate the hassle of reentering card numbers for new phones or syncing across multiple devices, CardStar now offers CardStar Connect; the feature protects user privacy by generating an anonymous user ID and storing card data in the cloud where it can be accessed anytime simply by entering a private PIN.
Foursquare Check-in Validation – CardStar is the first mobile loyalty app to utilize Foursquare's open API, allowing Foursquare users to check in to locations from CardStar when they use their loyalty cards. CardStar users get a unified mobile commerce experience without having to navigate through multiple apps.
Favorite Places – Users can enhance CardStar by adding frequent haunts to their favorite places list. The favorite places feature uses geolocation to automatically display a specific loyalty card and lets users easily check in to Foursquare.
Support for iOS 4 – CardStar boasts the latest operating system's fast app-switching feature and support for high-resolution icons.
By continuing to incorporate more engaging features such as Foursquare, CardStar is seeking to redefine how customers interact with their favorite merchants and provide a more direct mobile channel for marketers to build deeper relationships with current and prospective customers.
Follow the CardStar Twitter feed to get the latest product updates.
Cardstar is available for your Apple iPhone, iPod touch, iPad,  BlackBerry and Android phone.
You can find out more information and download Cardstar here.