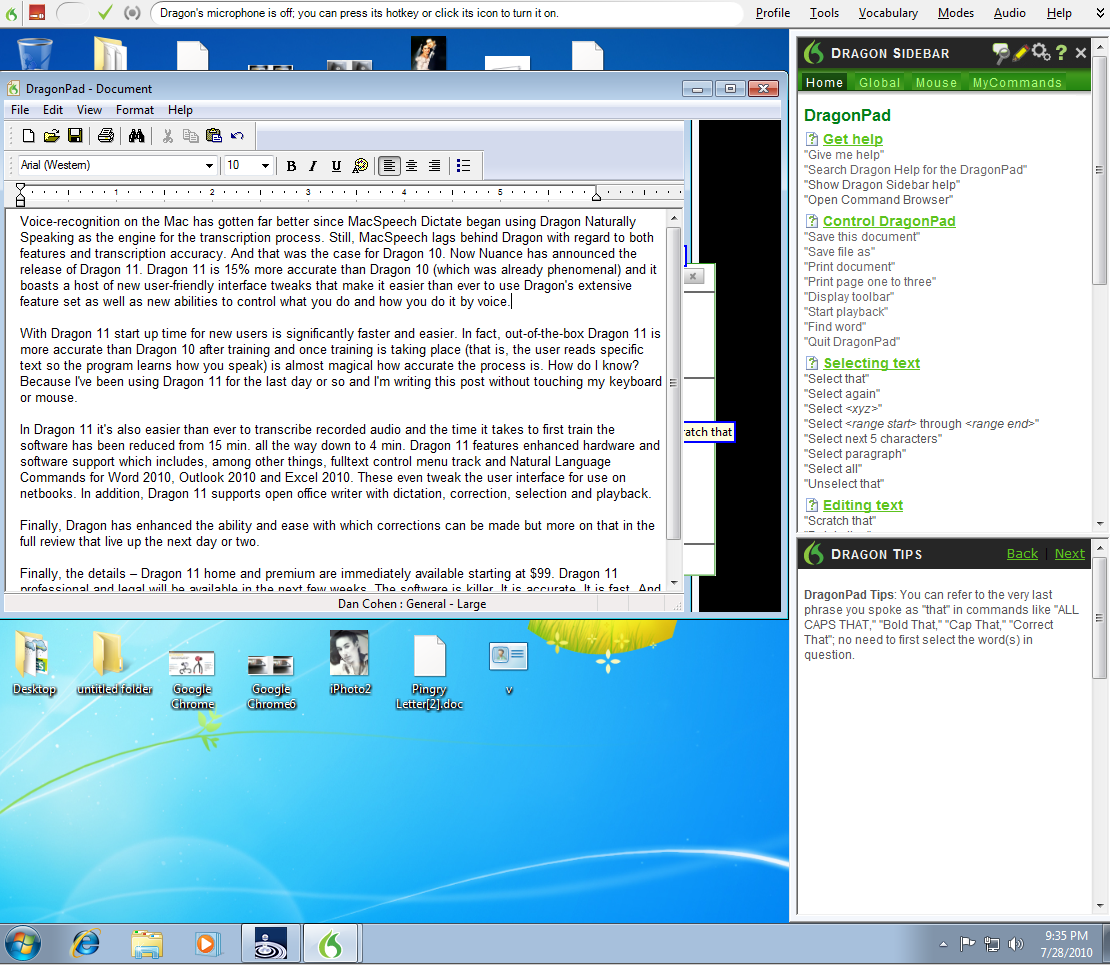 Voice-recognition on the Mac has gotten far better since MacSpeech Dictate began using Dragon NaturallySpeaking as the engine for the transcription process. Still, MacSpeech lags behind Dragon with regard to both features and transcription accuracy. And that was the case for Dragon 10. Now Nuance has announced the release of Dragon 11. Dragon 11 is 15% more accurate than Dragon 10 (which was already phenomenal) and it boasts a host of new user-friendly interface tweaks that make it easier than ever to use Dragon's extensive feature set as well as new abilities to control what you do and how you do it by voice.
With Dragon 11 start up time for new users is significantly faster and easier. In fact, out-of-the-box Dragon 11 is more accurate than Dragon 10 is after training and once training is taking place (that is, the user reads specific text so the program learns how you speak) it is almost magical how accurate the process is. How do I know? Because I've been using Dragon 11 for the last day or so and I'm writing this post without touching my keyboard or mouse.
In Dragon 11 it's also easier than ever to transcribe recorded audio and the time it takes to first train the software for this activity has been reduced from 15 min. all the way down to 4 min. Dragon 11 features enhanced hardware and software support which includes, among other things, fulltext control menu track and Natural Language Commands for Word 2010, Outlook 2010 and Excel 2010. These even tweak the user interface for use on netbooks. In addition, Dragon 11 supports open office writer with dictation, correction, selection and playback.
Finally, Dragon has enhanced the ability and ease with which corrections can be made but more on that in the full review that live up the next day or two.
Finally, the details – Dragon 11 Home and Premium are immediately available starting at $99. Dragon 11 Professional and Legal will be available in the next few weeks. The software is killer. It is accurate. It is fast. And although it's not supported by the company, it works perfectly on a virtual Windows 7 computer running on a 27 inch iMac. How do I know???
…because that's how I wrote this post.
The full release follows. Watch for the full review of Dragon NaturallySpeaking 11 in the next few days.
Nuance Unveils Dragon NaturallySpeaking Version 11, Simply Smarter Speech Recognition
New Release of Dragon Delivers the Accuracy, Flexibility, and Features to Make Speaking Your Mind Easier than Ever – at Home, in the Office and On the Go

BURLINGTON, Mass., July 29, 2010 — Nuance Communications, Inc. (NASDAQ: NUAN), a leading provider of speech solutions, today unveiled Dragon NaturallySpeaking 11, a new release of the world's best-selling speech recognition software that fundamentally improves the way people interact with their computers. From improved accuracy and faster performance, to an intuitive new interface, Dragon NaturallySpeaking 11 has been redesigned to let people spend more of their energy working and creating, rather than clicking and typing. Dragon 11 gives people a voice to perform almost any task on the computer to create documents, send emails, surf the Web, search Facebook and Twitter and interact with their favorite applications – at speeds up to three times faster than typing.

For years, people from all walks of life have used Dragon on the PC to be more productive, save time and capture their ideas at the speed of thought – at home, in the office, the courtroom, the classroom, the exam room, or even on the road. And more recently, with Nuance's Dragon Mobile Apps on the BlackBerry, Apple iPad, iPhone and iPod Touch, millions of people now communicate quickly and easily on their mobile devices, simply by speaking.

Dragon NaturallySpeaking 11 delivers the incredible accuracy and speed that people have come to rely on from the Dragon family, and includes many more features to help people speak their minds:

At Home – Whether it's capturing family stories, surfing the Web, updating a Facebook status or helping students cut homework time in half, Dragon NaturallySpeaking gives people an easy way to get more done in less time.
At Work – Dragon NaturallySpeaking allows busy professionals, students, teachers, writers and bloggers, to get their thoughts on paper as fast as they can speak them, including emails, documents, spreadsheets and presentations.
On the Go – Couple Dragon with a recording device and speak your notes, ideas and thoughts on the go. Dragon does the work later, transcribing the audio into text back at the PC.

Dragon 11 is Simply Smarter Speech Recognition:

Advanced Technology – It's been over 13 years since Dragon first debuted, and millions of hours of data, decades of research and hundreds of the best brains in speech science have made Dragon the smart, accurate speech recognition that it is today. Despite the sophisticated nature of speech recognition, Dragon's "brain" works behind the scenes, so you can focus on creating and communicating by voice at speeds up to three times faster than typing – without the software getting in the way .

Accurate and Fast – Dragon 11 boasts an improvement in accuracy of 15 percent compared to Dragon 10. This means Dragon 11 recognizes speech more accurately right out of the box, so people will spend less time correcting recognition errors. Dragon 11 is also faster than previous editions when selecting application menu items by voice or executing voice commands.

Time-Saving Voice Commands and Shortcuts – Dragon collapses common multi-step tasks on the PC into direct voice commands. You can send emails and schedule meetings, search the Web for information, search your desktop, or even navigate between Windows, simply by saying what you want. Dragon 11 includes even more commands to consolidate multiple mouse clicks and keystrokes into a direct voice command that can be spoken anytime, such as:
"Search Amazon for Bluetooth headset"
"Search Twitter for haiku"
"Search maps for 11 West 53rd St., New York, NY"
"Search Dragon Help for working with GMail"
"Send an email to Mike Smith"
"Open My Pictures"
"List Programs"

New User Interface – The latest release of Dragon makes it easier than ever to speak your mind and communicate more naturally with: a new Dragon Sidebar to help users discover and remember commands and tips; a richer Help system with new tips, illustrations, tutorials and videos; an updated toolbar that allows users to discover and quickly access important but often-overlooked Dragon features

Smarter Correcting and Editing – Dragon makes editing and correcting text easy. With Dragon's Quick Voice Formatting commands, you can issue a simple voice command, such as "Bold New House Listings," or "Capitalize Today's Featured House" to make formatting text faster than ever. With Dragon 11, it's easy to edit or correct a word or phrase if there are multiple matches by displaying a number next to each. In addition, corrections entered using the keyboard (in addition to those made by voice) are used to adapt the user's profile and boost accuracy. Finally, the Correction Menu now suggests more alternate recognitions by default and enables users to quickly add phrases to the vocabulary, or to prevent an undesired word from being recognized.

Getting Started with Dragon is Faster and Easier – Establishing a user profile in Dragon is now simple and conversational, and setting up a microphone or new audio source is more clear and straightforward.

Use Dragon to Transcribe Recorded Audio – With Dragon, you can dictate on the go into a digital voice recorder, and then let Dragon do the work for a quick transcription of your recorded voice. Creating a new user profile for a digital recorder or PDA, or adding a digital recorder as a new audio source for an existing user profile, is now much faster with Dragon 11: the minimum reading time required to train Dragon with a recorder has been reduced from 15 to 4 minutes. In addition, people can use .DS2 files directly to train Dragon to create as well as to transcribe dictation from portable recorders.

Enhanced Hardware and Software Support – Dragon 11 is compatible with Microsoft Office 2010 applications and Full Text Control, Menu Tracking, and Natural Language Commands are supported for Word 2010, Outlook 2010, and Excel 2010. With Dragon 11, users can now comfortably view the Dragon user interface and tutorials on netbook (mini notebook) computers. Finally, Dragon 11 supports OpenOffice Writer with dictation, correction, selection, and playback.

"Since Dragon first debuted over 13 years ago, it has truly transformed from a novelty to a necessity for millions of people," said Peter Mahoney, senior vice president and general manager, Dragon, Nuance. "Speech has proven itself – on the desktop, on mobile devices, and even in cars – to be a more natural interface, allowing people to simply speak to keep up with their ideas, their communications, and their work. Our goal with Dragon 11 was to make the software not only as accurate as possible, but almost transparent, empowering people to focus on simply letting their ideas flow, straight from their brain to the page."
Catch Dragon 11 in action HYPERLINK "http://www.nuance.com/videoplayer/videoplayer.asp?p=/naturallySpeaking/product-demos/&w=640&h=360&n=Nuance_DNS_11_Launch_100_640x360″ here. (VIDEO)

Dragon NaturallySpeaking
Dragon has long been a leading speech recognition application on the desktop, used by millions of people around the world. As demand for speech has grown, Nuance has sought to make speech recognition accessible to more people, from more places and devices. Nuance recently launched several HYPERLINK "http://www.dragonmobileapps.com/"Dragon Mobile Apps – including Dragon Dictation, Dragon Search and Dragon for E-mail – for iPhone, iPod Touch, iPad and select BlackBerry devices. And now HYPERLINK "http://www.nuance.com/news/pressreleases/2010/20100201_autoNVC.asp"automotive manufacturers can harness the power of Dragon to allow drivers to access dynamic real-time information and services by voice – right in their cars.

Availability
Dragon NaturallySpeaking 11 Home and Premium are available immediately starting at $99.99 through Nuance's Web site as well as its global network of reseller partners, software retailers and professional sales organizations. Dragon NaturallySpeaking Professional 11 and Legal 11 will be available in the coming weeks from Nuance and through Nuance's value added resellers worldwide. For additional information on features, editions, pricing and volume licensing programs, please visit HYPERLINK "http://www.nuance.com/naturallyspeaking" http://www.nuance.com/naturallyspeaking.

About Nuance Communications, Inc.
Nuance is a leading provider of speech, imaging and customer interaction solutions for businesses and consumers around the world. Its technologies, applications and services make the user experience more compelling by transforming the way people interact with information and how they create, share and use documents. Every day, millions of users and thousands of businesses experience Nuance's proven applications and professional services. For more information, please visit: HYPERLINK "http://www.nuance.com/"www.nuance.com.

Trademark reference: Nuance, Dragon, Dragon NaturallySpeaking, and the Nuance logo are registered trademarks or trademarks of Nuance Communications, Inc. or its affiliates in the United States and/or other countries. All other company names or product names referenced herein may be the property of their respective owners.