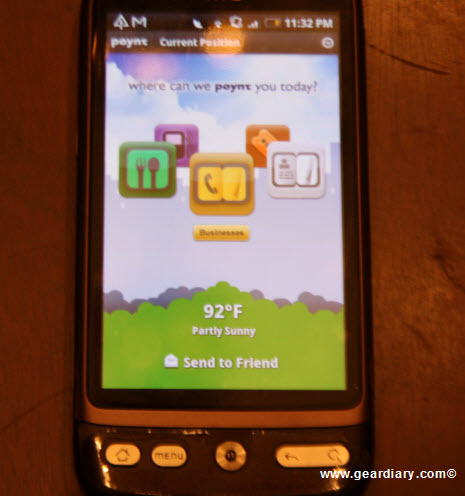 It's no secret that I am a huge fan of Poynt, the free location based do-all search application that's been available for BlackBerry and recently for Apple iOS devices.    It's one of those go-to applications I always add whenever I upgrade or switch devices.  Until now, I was going through withdrawal without Poynt on my Android phone.
Whether you're looking for the closest coffee shop, post office, movies playing nearby, or need to find the cheapest gas station prices for your driving needs, Poynt has you covered.   It's literally one of those 'swiss army knives' type of applications that I always find myself using on a daily basis.  The fact that it's available on three of the most popular mobile platforms gives smartphone users who have yet to try Poynt a very welcome opportunity.
Interested in seeing a bit more in our first look?    Well, let's go…
On my way home I needed to pick up a few things and wanted to see a few of the grocery store options available in the area I was in.  Boom!  Poynt to the rescue.   Then I needed to fill up for gas — and didn't want to spend an arm and a leg.  Do I have to go to another app to find what I need?   No!   Poynt will take care of it.
So after filling up, what about some fun?    Using Poynt I can use the top tab menu — or the main screen's carousel UI — to quickly find out what movies are playing close by.    I can even use Poynt to purchase movie tickets for select theaters, and right from the same app initiate directions to get there from my location.  Heck, if you're really into movies you can add a Poynt widget to your Android phone to show movie showtimes and have quick access to trailers from your phone's home screen.
One of the most useful functions?   Being able to add any location or business you find directly to your phone's contact list — all directly within Poynt.   I'm not kidding when I say I use this app daily.  It saves me time trying to find what I need close by.   It can help save money by making short work of all those errands (less time driving around and searching) — and more money in your pocket by locating cheaper gas stations.  Add to those features the fact that you get all this functionality for FREE, and it's one application you'll want to add to your Android phone asap.  You can find it in the Android Market.
Here's the full scoop from the team behind Poynt, Multiplied Media:
MULTIPLIED MEDIA LAUNCHES POYNT APPLICATION FOR ANDROID

Android Users Can Now Access the Best in Local Business, Restaurant, Movie and People Search, as well as View Local Gas Price and Weather Information

Calgary, Canada —July 28, 2010—Multiplied Media Corporation ("Multiplied" or the "Company") (TSX:V MMC), a leading provider of mobile local search services, today announced that its multi-award winning application, Poynt, is now available for Android™. Poynt is a free location-based search application that connects smartphone users with their local area.

Poynt for Android offers the features and benefits of multiple individual local search applications in one. By entering search terms, the user is able to find and discover nearby people, businesses, restaurants and movies, as well as find the lowest local gas prices and view integrated five-day weather forecast. Poynt allows users to find phone numbers, addresses, maps and directions, as well as offers enhanced features such as the ability to read movie reviews, view trailers and even purchase movie tickets and book dining reservations.

Poynt is designed to work seamlessly with Android's on-board utilities including the address book, maps and the phone's dialer to make for a tightly integrated user-experience. Poynt for Android also enables users to add a Top Ten Movie widget to their homescreen for quick access to previews, film synopsis', local movie times and locations. Android users can also use voice-activation to search businesses, restaurants and movies in their local area.*

"The Android platform is becoming increasingly popular and we are very pleased to be able to offer Poynt to a whole new audience," said Andrew Osis, CEO of Multiplied Media. "Poynt brings Android users an app that helps them quickly and easily discover the area around them, whether it's finding a new restaurant or buying movie tickets for the family, Poynt gets you there every step of the way."

Poynt for Android includes rich features such as:

Setting a Location: Poynt will detect your current location to begin a search or you can manually enter an address to use as your search location
Map View: Choose to view a single or full set of search results on a map
Address Book Integration: Add frequently accessed listings to your Contacts for convenient future look ups
Voice Activation: Simply tell Poynt what business, movie or restaurant you're searching for and the results will be displayed*
Media Integration: view movie trailers when searching for nearby films
Favorite Movie Widget: Access movie showtimes, trailers and locations from your desktop

Poynt is a free application and is now available to Android users in Canada and the United States from m.poynt.com or directly from Android Market.
Poynt is also available to iPhone and iPod Touch users, as well as BlackBerry smartphone users in Canada, the United States, Italy, France, Spain, Germany and the United Kingdom. Poynt is a free download for these devices at the iTunes App Store, on BlackBerry® App World (www.blackberry.com/appworld) or via Over the Air download at m.poynt.com.

About Multiplied Media Corporation
Multiplied Media (www.multiplied.com) develops and operates mobile applications that enhance the consumers' ability to connect with the people and businesses most important to them. Their multi-award-winning application Poynt (www.poynt.com) is a mobile local search service available over BlackBerry smartphones and iPhone and iPod Touch devices. Through agreements with directory and vertical content providers in Canada, the United States and Europe, Poynt simplifies finding and connecting with businesses, retailers and events wherever and whenever it is most convenient for the consumer. The MyInboxNow offering, from newly acquired UnoMobi (www.unomobi.com), enables low-end feature phones to behave like smartphones for email access. MyInboxNow is available to mobile operators as a private label solution. Headquartered in Calgary, AB, Canada, Multiplied Media trades on the TSX Venture Exchange under the symbol MMC.
Neither the TSX Venture Exchange nor its Regulation Services Provider (as that term is defined in the policies of the TSX Venture Exchange) accepts responsibility for the adequacy or accuracy of this release.
Apple, iPhone and iPod Touch are trademarks of Apple Inc., registered in the U.S. and other countries.
What I Like: It's free.  Highly useful for anything you may be searching for locally.  Intuitive user interface. Ability to easily add locations directly to your phone's address book and map directions to any chosen location.
What Needs Improvement: Nothing.   I love this app!
Cost: FREE baby!  Available for Android, iPhone and BlackBerry.
Download from m.poynt.com, Android Market, iTunes or www.blackberry.com/appworld for your smartphone.