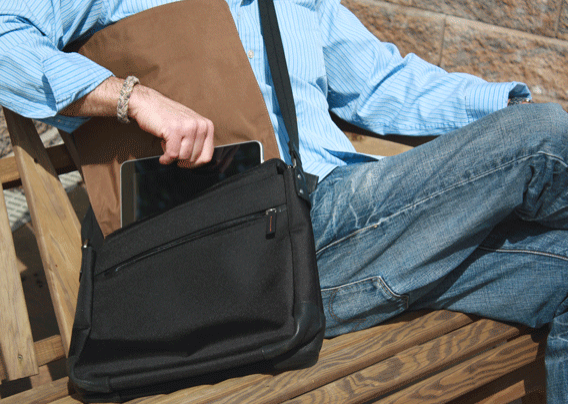 My iPad is with me pretty much all the time these days. It's rare for me to carry my MacBook Pro out and about anymore since I can accomplish pretty much everything that I need to on a device that weighs a pound and a half and runs for up to 10 hours or so instead of a 4 1/2 pound machine that gets significantly shorter battery life. That means I need the right bag to carry my iPad. If I'm going to carry the iPad though, its high degree of portability means I certainly don't want a huge heavy bag that undoes the weight savings the iPad offers. At the same time, I want to make sure that whatever bag I use is up to the task of protecting the iPad, particularly because of its glass display without any built-in protection. I've had the opportunity to review a number of bags already and have been quite impressed with many of them.  One that caught my eye as soon as it was announced, the Padster, may be my favorite bag so far. It's not too big and it's not too small. It's not too light and it's not too heavy. It was designed specifically for the iPad and it shows. I've been using one for the last week so let's take a look.
From The Company-
For Padster Bags' first product, the aptly named Padster Original, the team had four clear goals to achieve.

Unimpeded access to the iPad. The iPad is an amazing product for getting some stuff done in those little windows of opportunity that come up each day. But if getting to your iPad is a production in itself, the chances you're actually going to take advantage of those times goes down dramatically. When you want to use your iPad, you need to be able to just grab it. That's why on the Padster, you won't find any clasps, buckles, clips, or velcro getting between you and your iPad.

Not too small, but not too big. Padster needed to be small enough that you could carry it anywhere without feeling like it was getting in the way, but big enough to carry what you might need during the day. Whether it's an external keyboard for working on longer documents, some notepads, a charger, phone — even the 13″ MacBook Pro can come along for the ride — Padster will let you bring what you need to be productive.

Good looks make a difference. As Apple has shown with all of their products, function and beauty can be perfectly compatible with each other. We wanted Padster to look just as good as the iPad it carries. The simple, understated classic good look of black leather make Padster a bag you'll feel comfortable carrying whether you're in a business suit or jeans and a t-shirt.

No matter what else, if it's not quality it's a fail. It didn't matter how good Padster looked — it had to be an outstanding bag. Cutting corners will always make a product less expensive to produce, but it will never make an outstanding product. Padster uses only the highest quality materials, including soft-milled full grain cowhide, 1680D ballistic nylon, cotton blend lining, neoprene, nylon stitching, and self-healing zippers. It's the reason why we can offer a lifetime limited warranty and 30-day, no-questions-asked, return policy.
My Take-
When you first open the box you might be a little bit disappointed. The fact of the matter is… the Padster looks like any leather and cloth messenger bag. That's not a bad thing but it's just not very exciting. Yes, it's immediately apparent that the bag is made from high quality materials and is constructed with a high degree of care but it just doesn't make you go "Wow!"… at least not until you start actually using the bag. Once you actually start carrying it though… awesome!!!!!
The bag is made from soft milled full grain cowhide and ballistic nylon. The flap is leather, as are the accent points such as bottom corners and the strap attachment. The rest of the bag is made from nylon. It's heavy grade material that looks and feels good.
The inside of the bag is lined with a cotton blend material and all the hardware, what hardware there is is constructed of metal. (With the exception of the zippers.)
The bag is fairly light but substantial enough that it doesn't look like a "man purse". At the same time is not too large, which is a good thing for me because I have a tendency to fill whatever space is available to me.
I was initially disappointed in the permanently attached shoulder strap. It has zero stretching to it, and has no padding. In actual use, however, I'm finding it to be one of the most comfortable straps that I've encountered. Because it is a messenger bag I tend to throw it over my shoulders and swing the bag to my back so that the all of the weight of the bag is on my left shoulder. The strap holds the bag in place and prevents it from sliding around while avoiding the tendency to put any undue pressure on my shoulder. Carrying it for extended period I don't feel tired at all. All of this was a surprise to me since it is, at least in appearances, a rather basic shoulder strap.
Because accessibility is key to the success of this bag the large flap that extends over the top of the bag down covering the entire front of it isn't secured in any way. It simply flops in place.
A large zippered pocket that extends the length of the bag on the back is always exposed and is the perfect place for keeping those items that you may need quickly.
Because of the positioning you can access whatever is in there without having to lift the flap.
I have a few bags that have a flap that remains unsecured one in place and I've always been a bit frustrated by them. The problem with not being able to secure the flap is that the contents can easily spill out if you put the bag down the wrong way or you knock it over.
That isn't an issue with this bag because when you flip the main flap back you immediately see that both of the content areas inside of the bag can be zippered closed.
The very front of the bag has one zippered pocket which is good for small items that you don't want to keep in the back pocket but you don't want mixing with everything else in the bag.
It quickly became the location where I to toss my keys when I get to a destination. The loose flap lets me reach underneath, open the pocket and drop in my keys. That way
I always know where they are.
The main compartment, also zippered, reveals a nice organizational system as well as two spots for the iPad.
One is an open pocket that feels as if it's made from a neoprene material.
It's perfect if you're using your iPad without a case or with a simple back shell but it will also work with a smaller case such as Apple's offering or the casemate case that I reviewed a few weeks ago (and remains one of my two favorite iPad cases).
The second pocket is larger and can be zippered. It's good if you want to ensure that the iPad doesn't move around whatsoever. It's also excellent if you're using a slightly larger case since this pocket is more spacious.
Three open pockets sit on the exterior part of the zippered iPad pocket and one of them has four slots for pens. I was pleased to find that my new Echo smarten fits in them perfectly. Beyond that there is the main compartment which is good for throwing a few key items such as a pad of paper or Apple's wireless keyboard.
There are enough pockets to make the Padster super functional but not so many that I find myself searching around for something not knowing where I put things. In addition, the layout of the pockets lends itself to carrying all the things I need in a given day… but not too many.
If I have any criticism of the bag is this – it doesn't have a small handle midway on the back of the bag for quickly grabbing the bag on the run. If you want to pick up the bag you need to pick up the entire long strap and that's not always the most convenient thing. I understand the design decision not to have it as it would disrupt the smooth lines of the bag but from a use perspective having something right on the bag that can be grabbed when you're in a hurry would be convenient.
As I wrote previously, when I saw the bag up close for the first time I wasn't particularly impressed with it. It's a fine bag, made from quality materials and the fit and finish are perfect. It just wasn't all that exciting in person. When I started using the bag however I found that it is the right balance with regard to size, function and appearance. It looks professional enough to use for work but it looks fine if you're carrying it when you're out and about doing things casually. It holds everything I need to hold on a busy workday but doesn't hold so much that I'll get carried away and suddenly find myself weighted down by things I don't need with me. It protects my iPad quite well but is designed in a manner that ensures quick access to it. In other words, for the first release from this company they set out to design a bag that was specifically created for the iPad and in my opinion they have succeeded and then some. At $165 it's not an inexpensive bag. If you want something specifically designed for the iPad with good looks excellent function and quality materials however this may well be the bag for you.
The Padster Original is available now from the Padster site.
MSRP: $165
What I Like: Perfectly sized for carrying your iPad and just enough other stuff; Comfortable to wear; Looks great and does not have a Murse-look to it; Built from excellent materials and well constructed
What Needs Improvement: I would really like to see a small "grab and go" handle on the back; Rather pricey