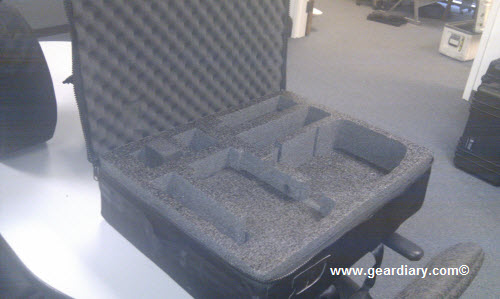 The video above shows Norry Leibman of South-Pak demonstrating a case panel 'torture' test.   South-Pak is  a company that carries  custom cases for just about every possible item you could imagine.   Have a trade show coming up and need a reliable way to ship your LCD screens?   Have to travel with delicate (and expensive) medical equipment?  Do you require the best protection for your photo and video equipment? Are you an emergency service responder needing to protect your gear in the most treacherous of conditions?   Regardless of your needs, South-Pak has what you will need — or they'll custom make it for you.
If you regularly stop by Gear Diary, you've probably picked up on the fact that many of the writers  — especially Larry –test and use just about every type of case that is available on the market.   When the team at South-Pak contacted Larry to offer Gear Diary a full tour of their facilities, it definitely an offer that couldn't be refused.   The only catch was that Larry's in PA, and South-Pak's located in Norcross, GA.   Luckily for me, that's right in my neck of the woods.
So let's take a look at a business that can create just about any type of protective case you'll ever need…
Here's a brief tour of the actual facilities at South-Pak:
What you may not get from the video tour is the level of service and product quality you get with South-Pak.   Norry and Larry Woods of South-Pak showed off just a few of the key items they provide nationwide.   The bottom line is to provide the lightest, most durable protective casing available  for all lines of business.   Worried that heavy crate you're using will bankrupt you with exorbitant baggage fees?   South-Pak can provide lightweight casing that will still offer the best protection.
What's even better is that South-Pak can even repair your existing cases, if needed.   Say a wheel or latch has come off — or maybe you want to reinforce the interior — you can ship it to South-Pak, and they'll make the repairs and ship the item back to you.   They can even do custom printing directly on the case (no peeling or scratching here!).
Whether you're a blogger heading off to the next big trade show with your audio and video equipment, a news organization, law enforcement agency, or any other profession — chances are you carry equipment that is both expensive and fragile.   Why not protect that investment with the lightest, toughest casing you can buy today?    If it's not something the South-Pak team already has, don't worry….because they can probably custom make whatever you need.
You can check out South-Pak's full offering's here, and you can also find them on Facebook & Twitter.