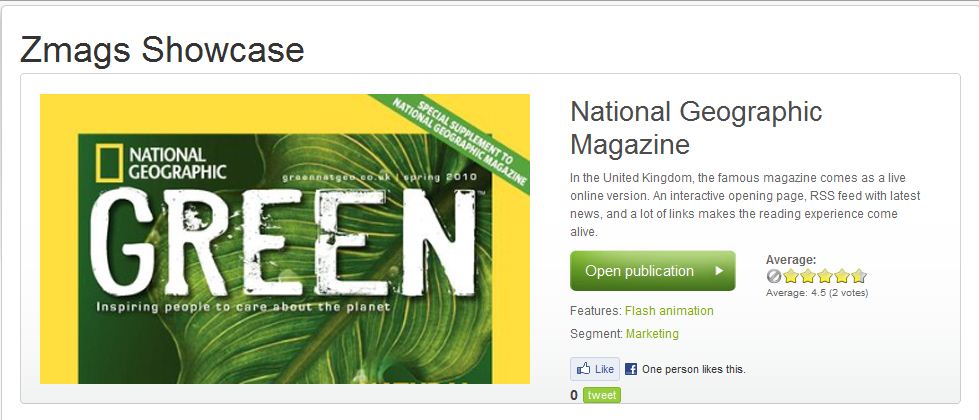 Judging from the never-ending parade of paper that I get in the mail each day, every special interest and retailer has a catalog or magazine for me. Then, of course, there's all the online versions of those catalogs and magazines…there's a huge signal to noise ratio, which can make it hard for anyone to break through my "junk filter".
ZMags is looking to solve that with their "ZMags Showcase". It's partly for consumers, but also largely geared towards the creators of online magazines and sites, with tips and discussions on what works, how many ads are on each page, etc. Each magazine gets star ratings, and companies can submit their eMagazines for evaluation. It's a great idea that taps into the "wisdom of crowds" concept. See what succeeds for others, see what various readers think of your site, and shape it according to the medium. Magazines are struggling with determining how to go digital, and it's interesting to see the different ways each publisher approaches the internet.
Check out the full press release below, and share in the comments: Do you read any magazines exclusively online? What do you look for in online content?
August 12, 2010 Zmags Corp. Launches "Showcase" Site With the Best Digital Magazines and Online Catalogs

An Online Forum for Sharing Best Practices and Inspiring Others to Build Highly Effective Digital Publications for Various Business Cases and Markets

BOSTON, MASSACHUSETTS–(Marketwire – Aug. 12, 2010) – Today, Zmags Corporation announced the launch of the Zmags Showcase, a website featuring a collection of the best 'zmags' selected from more than 100,000 digital publications created by the 2,500 Zmags customers. The Showcase site provides the fast-growing online publication community with examples of highly effective digital publications created for various business cases and markets. In the Showcase, visitors can join discussions, share ideas, vote on the best 'zmags', and discover best practices on using digital publications to improve ROI.

Each month, a panel of 'zmags' experts will select the best examples of newly created 'zmags' based on the publication's design and its effective use of interactive content such as visuals, embedded videos, Flash(R), interactive elements, e-commerce features, and integration with social media. Readers will then have an opportunity to rate and comment on each publication. The 'Zmag of the Month' will be selected based on the rating score and overall number of views and comments. At the end of the month, the best 'zmags' will be featured in the Showcase archive, where readers can view and filter digital publications based on industry, use case, and use of specific interactive elements.

"Many customers are asking us for recommendations on how to create an effective digital publication," said Peter Velikin, Vice President of Marketing at Zmags. "The Zmags Showcase was designed to provide users with ideas and inspiration; it contains the best 'zmags' in multiple different categories. The Showcase is also a unique forum for users to share ideas and best practices, and to select the winner of the prestigious 'Zmag of the Month' award."

Visit the Zmags Showcase here: www.zmags.com/showcase.

About Zmags

Zmags provides an intelligent digital publishing platform that enables marketers to effectively reach their target audience by converting existing offline content, such as catalogs, magazines, flyers, and brochures, into an interactive online experience. The Zmags rich media format increases the reach and resonance of online content and, when integrated with shopping carts or web stores, increases impulse purchases, up- sell, cross-sell and conversion rates. Zmags generates detailed analysis and statistics on viewer behavior and enables companies to provide a better customer experience, optimize their marketing ROI, and increase online sales. Zmags is used by more than 2,500 companies in 50 countries, including 10% of Fortune 500 companies. For more information on Zmags, please visit www.zmags.com.

Zmags, Read On and Zmags Publicator are trademarks of Zmags in the United States and other countries. All other trademarks contained herein are the property of their respective owners.

To view a picture of the Digital Showcase Example, please visit the following link: http://media3.marketwire.com/docs/DigitalShowcaseExample.jpg.