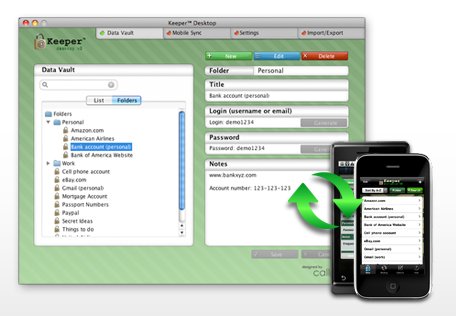 Callpod who is the maker of the Chargepod, fueltank and other products for mobile phones has branched out into software now with the release of Keeper and Keeper Mobile.  These programs are password data vaults that run on pretty much every smartphone including iPhone, Android and Blackberry based phones.  The free version let's you store your passwords on your mobile phone only.  With a $29.99 subscription, you are also able to use Keeper on your Windows, Mac or Linux Desktop.
I will say I have not tried the software yet, but I am afraid to say I really don't feel safe using it.  Why is that?  Well Keeper's paid subscription includes Cloud Backup for your password information.  Think about that for a moment.  Your passwords are being synced up to Keeper's servers on the internet.  Sure, they may be encrypted with military grade encryption, but call me crazy, I don't really like the idea of having my passwords stored in the cloud no matter what kind of encryption it has on the file.
Also, there are multi-platform password vaults that are free and open source that do a lot of what Keeper does.  My favorite is Keepass.  Keepass stores the vault locally in one file.  It doesn't sync to the cloud, but you could probably set your own cloud up with another service like Dropbox.  Dropbox would have no control on any piece of the Keepass file other than storing it which means it should be kept safe from prying eyes.  This is especially the case with Keepass even exceeding the level of encryption that Keeper uses.  With that said, Keepass does take a little getting used to.  It's not the most easy to use software.
I will take a deeper look at Keeper Mobile for Android and the Linux and Windows Desktop software and see if my concerns are valid or not and I will update you right here on Gear Diary.