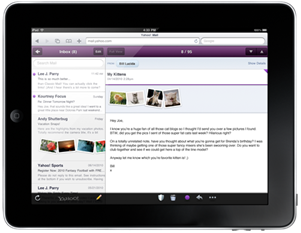 I've had a Yahoo! Mail account since before Google became a verb – or a noun, for that matter – and I still use it for certain purposes, so when Yahoo! recently announced improvements to the service, it caught my attention.  Available starting this week, Yahoo! has given iPad users of their Mail service a shot in the arm with a new, HTML5-driven mobile web interface.  Yahoo! released a similar update for iPhone compatibility around the beginning of July, so it only makes sense that the iPhone's bigger sibling is getting similar treatment.
As part of the update, Yahoo! promises:
·         Faster and more reliable: If you're offline, Yahoo! Mail uses local caching capabilities to help you access and search your messages even without an internet connection.

·         Smart: You can find and organize your messages using Full Search, personal folders and Smart Folders with messages from your most important contacts and optimized views for photos and file attachments.

·         Feature Rich: View rich photo attachments in their full form, or as previews directly in the inbox view. Also includes a dual-pane view to make reading and organizing a breeze.
If you want to see an overview of all of the improvements, head on over here.  To check out the new experience yourself, simply go to http://mail.yahoo.com on your iPad.