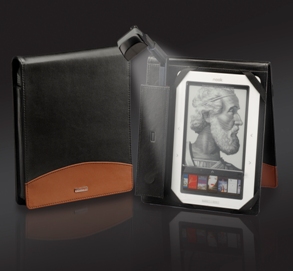 One of the main gripes I have always had about e-ink technology is that it has no backlighting.  "You can't read it in a dim room," I complain.  (People say, "But you can't read regular screens on the beach!"  To which I reply that I spend a heck of a lot more time inside and/or in the dark than on the beach.)
But various folks are trying to solve this problem, and the Periscope is one solution. Giving you a full lighted folio for your Kindle or nook, the Periscope not only gives you some light when you need it, but also a nice cover for your device. The Periscope is available for an MSRP of $49.95.
Full information below.
Reinforcing its commitment to simplify the e-reading consumer¹s choice of integrated Cover+Lights, Periscope® (www.periscopelight.com <http://www.periscopelight.com> ), the industry leading manufacturer and marketer of e-reader covers that feature built-in retractable LED reading lights, today introduced a next generation
Periscope® Lighted Folio that is compatible for use with Amazon Kindle 2 and Barnes & Noble nook e-readers.

Wherever possible, Periscope is dedicated to simplifying the consumer¹s choice of an e-reader cover,² Periscope President Eric Fisherman said today. Simplifying the buying process will become even more important as we move into the upcoming holiday gift giving season.  Many gift givers simply do not know what model of e-reader their loved one own or plans to buy.  Our new Lighted Folio becomes the ideal choice because it is compatible with both the Amazon Kindle 2 and Barnes & Noble nook e-readers.

The introduction of the next generation Lighted Folio comes on the heels of the company's debut last week of its new Periscope Flip Cover+Light Series, a Œflip over design available in two versions ‹ one that's compatible with both the Amazon Kindle 2 and Barnes & Noble nook e-readers and a second larger version that is compatible with the Amazon Kindle DX e-reader.

Available for immediate delivery from www.periscopelight.com
<http://www.periscopelight.com>  at a suggested retail price of $49.95 the all-in-one Lighted Folio features a retractable Periscope® twin LED reading light, deluxe cover, and notebook/pen holder in one attractively designed black or pink leatherette unit.

Ideal for reading at home or on the road, consumers simply slip their Kindle 2 or nook into the custom designed holder, pull up the retractable, twin LED reading light, and begin reading in any low light environment ‹ in bed, on a bus, train, or airplane, as well as in a car or class room.  When finished, retract the reading light and close the cover.  Everything stays together until the next time it is needed for reading, working, or studying!

The Lighted Folio¹s built-in 5²X8² notepad and penholder make the Periscope® Lighted Folio ideal for students and professionals alike. If they don¹t need to use the notepad they can snap the cover open for one-handed reading! The built-in retractable twin LED light is powered by three ³AA² batteries (not included) that will last at least 40 hours.  The cover features a magnetic snap closure that secures the e-reader when traveling.  A mini-travel 110-220V AC adapter is available for purchase separately.

Periscope® reading lights answer a common dilemma faced by travelers, commuters and late-night readers: how to illuminate a book in dark places without cords, clips or clutter. The Periscope® Book Light in a Bookcover is a single, lightweight design that integrates a superb, retractable reading light inside a bookcover.   With a Periscope® Book Light in a Bookcover, the light never leaves the book being read!