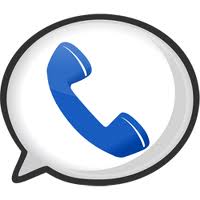 Image courtesy of Google
Does Google's free app goodness ever end? Whether you're a fan of Google or not, you must admit that the free services they offer are among some of the best. Google is constantly adding new apps and upgrading existing ones to their huge lineup. Google chat expanded a few months ago with the addition of letting you communicate via video and voice (plugin required) to someone right from the chat window. Google announced this morning that now you don't even need to pickup your phone anymore to make free calls to the US and Canada directly from your Gmail. Since your contacts are fully integrated into Gmail, you can just call anyone's phone right from your PC using your headset and mic.
If you already have a Google Voice number then all calls outbound will show up with your Voice caller Id. If you don't already have a Google Voice account then make sure you jump over to the Voice page and get setup, it's a free service that is especially useful if you don't like to give out your cell or home number. I use it as a contact number for filling out online forms, and to give anyone I don't know who might need to contact me. You can also just use it as a cheap way to make and receive calls without paying long distance charges (if they actually still exist). Google plans on rolling this out over the next few days so keep your eyes peeled for the "Call Phones" option in your chat list. The required plugin works with Windows, MAC, and Linux.
Dialing a phone number works just like a normal phone. Just click "Call phone" at the top of your chat list and dial a number or enter a contact's name. We've been testing this feature internally and have found it to be useful in a lot of situations, ranging from making a quick call to a restaurant, to placing a call when you're in an area with bad reception.
I really don't make any international calls and have free long distance on my phone so I doubt I will be using this feature very much. It's very similar to Skype but the best part is it's just another part of Gmail and you don't have to run another application to get it going. Its looks like a quick and easy way to make a call while you're sitting right behind your computer without having to burn your cell minutes or pickup your phone. The best use I'll get out of it is when I'm at my machine researching an online purchase and need to call, or maybe calling Verizon and waiting on hold for 45 just to tell them my FIOS is out again. Either way its free and really requires no work on my part to use so I'm chalking this one up as another great free app from our friends at Google.
Via Google Blog