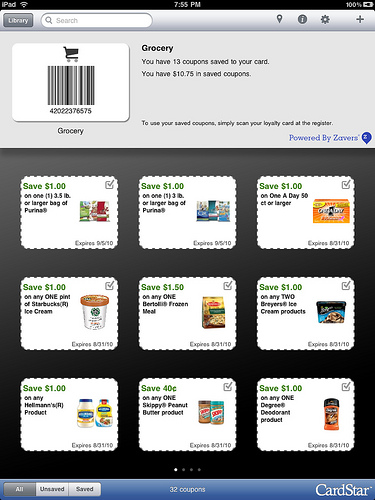 Everyone can use a little extra money in their pockets.  One way to save is to use coupons whenever you go shopping.  Now, I don't know about you but I am horrible at this process.   Couponing requires you to sift through the weekly circulars and papers to dig out the coupons you would actually use.  Then you have to cut them out,  and remember to have them with you when you go out shopping.
There are a lot of people out there that are so highly organized that this is a regular habit.  Sadly,  I am not one of those people.  When CardStar announced that their new CardStar application for iPad will do all of this work for me,  my interest was definitely piqued.   I got the chance to speak with CardStar's  Chief Technology Officer, Danny Espinoza , yesterday.    Not only will the iPad app make it a breeze to save coupons that are applicable to you personally, but the app will sync those coupons to your iPhone, BlackBerry or Android phone (where you're already running the CardStar loyalty card app, right?).
Now you can ditch that bulky wallet and unwieldy pile of paper coupons.   What's even better is that if you're forgetful (like me) and your better half is at home, they can load up those coupons on the iPad and sync those coupons to the device(s)  you've saved to run CardStar on your phone.   Then you get a nice, tidy electronic coupon that you can't easily lose while picking things up on your way home from work.
Keep reading to check out the full list of features,  gallery and official press release.
Greg Sterling, Senior Analyst at Internet2Go, is also a fan of CardStar's new iPad app:
"CardStar has leaped into the red-hot deals space by transforming itself from a basic consumer utility app to a connected shopping platform with the launch of CardStar for the iPad. Its range of useful features makes it more than just another me-too coupon provider."
CardStar continues to increase functionality in the mobile space by bringing ease-of-use to coupon and loyalty programs at your local retailers.  Instead of a deluge of coupons and offers that you may not use, you get a focused set of discounts that are applicable to you personally.  Another perk?  You can easily email coupon offers you receive with friends and family.
CardStar Extends Customized Couponing to the iPad

Mobile loyalty app brings interactive coupon-clipping experience to the iPad that connects merchants, brands and consumers through existing rewards card programs

NEWS FACTS

CardStar, the leader in mobile loyalty card applications, today launched a complementary version of its popular smart phone app for the iPad that transforms coupon discovery into a customized experience.

The app leverages the tactile and visual utility of tablet devices like the iPad to help consumers discover, tailor and redeem coupons from their preferred retailers and brands.

CardStar's iPad app features:

Scissor-Free Coupon Clipping & Hassle-Free Redemption – To select a coupon, drag and drop it onto the corresponding merchant's digital loyalty card inside of CardStar for iPad. To redeem saved coupons, simply use the loyalty card at checkout, whether it's the original plastic one or digital version in the CardStar smart phone app (iPhone, Blackberry and Android).
Retailer & Manufacturer Coupons – CardStar currently partners with numerous retailers and coupon providers, including Zavers, to provide a wide range of saving opportunities.
Personalization – CardStar helps avoid information overload by only sending coupons for retailers saved in a user's CardStar card catalog.
Filtering – CardStar offers filters so users can easily see coupons they've previously selected or search for those from specific brands.
Social Sharing – Coupons can be e-mailed to friends and family through the app and users can also automatically check in through Foursquare at checkout.

CardStar's iPad app presents businesses with the opportunity to tap existing program subscribers (e.g. memberships and rewards) and test out new mobile marketing strategies with minimal risk.

CardStar is the most widely used mobile loyalty application in the world. Since launching in 2009, it has experienced 2 million downloads and currently services more than 700,000 active users.

ABOUT CARDSTAR

CardStar Inc. is a privately held software company developing mobile applications that perpetuate the use of loyalty cards and mobile coupons. The CardStar application consolidates membership and rewards cards on smartphones – letting consumers access scannable cards from within a single app and enabling merchants to tailor mobile deals and information to their customers. The company was founded in 2008 and is located in Boston, Mass. For more information, visit www.mycardstar.com.
Use this link to access CardStar.